Dangers Of Placing Your Feet On The Dashboard Of Your Car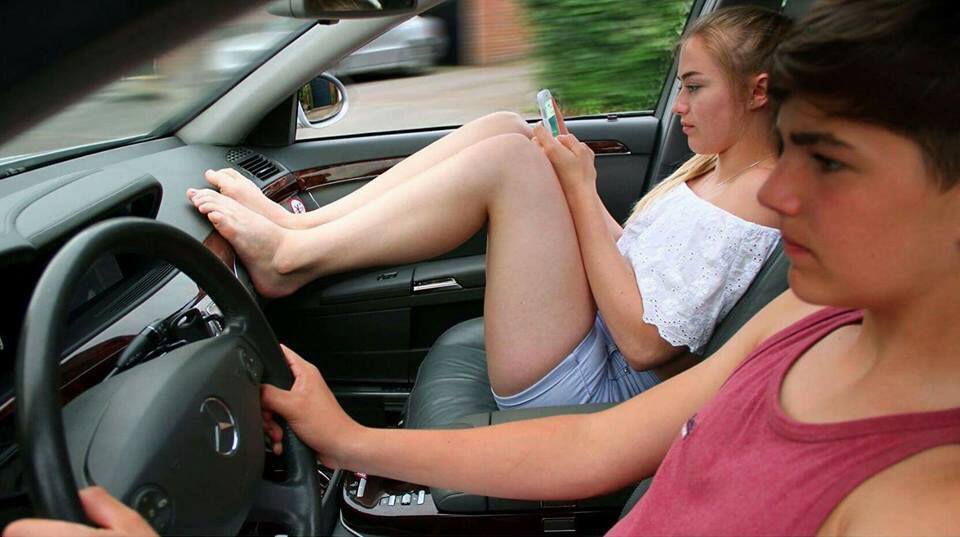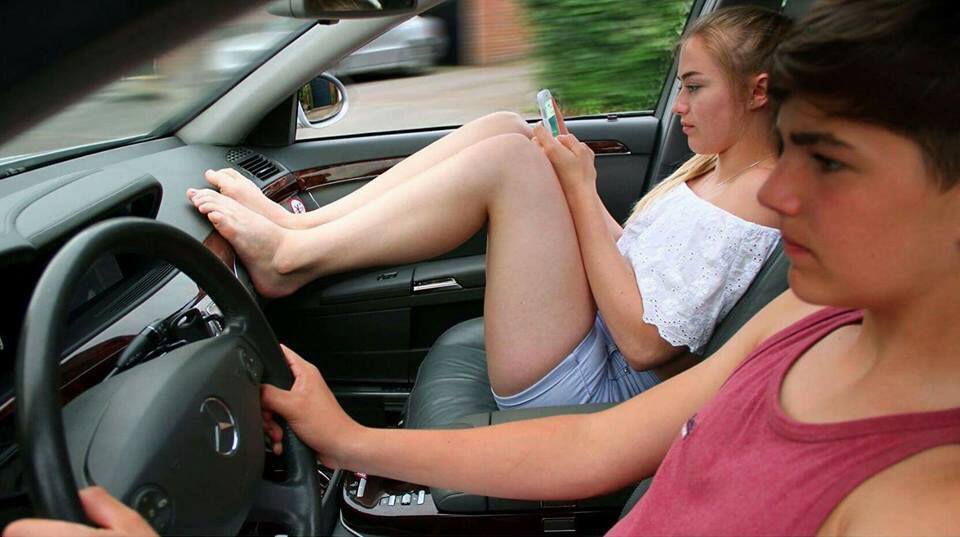 Are you among those when riding on the passenger seat would place their feet on the dashboard in a bid to feel more comfortable?
Are you the type that like the comfort or showoff of putting your leg on the dashboard? Do you feel the leg room is not enough for you?
If your answer to the above questions is yes, then know you've been doing the wrong thing as well as putting yourself in danger.
Placing your feet on the dashboard will expose you to danger that may have very serious consequences.
It might be comfortable at first but it can as well leave you with a long lasting injury if something should go wrong.
Airbags deploy between 100 and 220 MPH. If you ride with your feet on the dash and you're involved in an accident, the airbag may send your knees to the roof.
Airbags: How They Work And Types
You may think you can be fast to put them down when something is about to go wrong; you should be aware you're not superhuman. You might not be able to act as fast as needed. It is safer you stick to doing the needful. Don't place your legs on the dashboard of your car.
The ideal sitting position for the safe use of airbag remains using your seat belt and sitting upright. 5 Facts About Your Car Airbag
We will share a story about a lady who paid deaf ears to this warning. She learnt the hard way and now regretting.
Read the story below;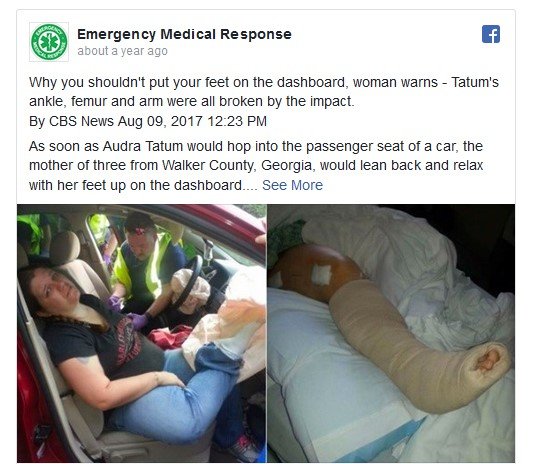 As soon as Audra Tatum would hop into the passenger seat of a car, the mother of three from Walker County, Georgia, would lean back and relax with her feet up on the dashboard.
Her husband warned her about the dangerous habit, but Tatum didn't care — it was comfortable.
"All my life I had my legs crossed and my foot on the dash," Tatum told CBS News. "My husband always told me, 'You're going to get in a wreck someday, and you're going to break your legs.'"
Tatum assured him he was wrong.
"I'll put my foot down in time," she would always reply.
But two years ago, on August 2, 2015, Tatum's perspective changed completely.
The couple was heading to her parents' house about 4 miles away to pick up her two sons when a car pulled in front of her husband and they T-boned him. Everyone was able to walk away from the scene with scrapes and bruises, except for Tatum.
"The airbag went off, throwing my foot up and breaking my nose," Tatum explained. "I was looking at the bottom of my foot facing up at me."
Tatum's ankle, femur and arm were all broken by the impact.
"Basically my whole right side was broken, and it's simply because of my ignorance," Tatum said. "I'm not Superman. I couldn't put my foot down in time."
Tatum underwent several surgeries and weeks of physical therapy. It took her over a month to start walking again.
Two years later, she's still facing obstacles.
"I can't do my career as an EMS. I can't lift patients anymore," she explained. "I can't stand more than 4 hours at a time. Once I'm at that 4-hour mark I'm in tears."
Now the mom is using her story to warn others.
"I keep telling everybody, you don't want this life," she said. "You don't want the pain and agony every day."