The Moment Davido Was Spotted Cruising N15m Can-Am Spyder F3 Trike (PHOTOS/VIDEO)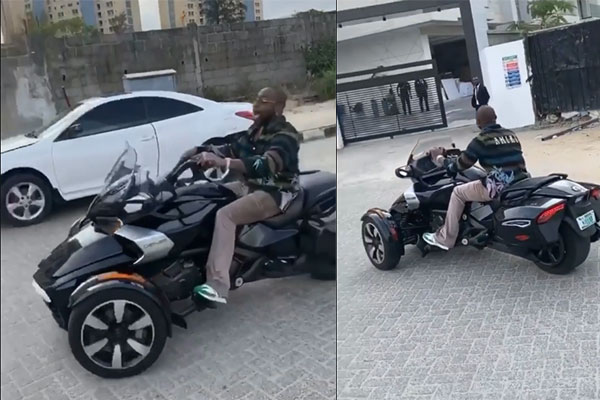 In the cool period of the day, the Nigerian music artiste, Davido, otherwise known as OBO was spotted riding a Can-Am Spyder Trike with all excitement.
David Adedeji Adeleke better known as Davido, is an American-born Nigerian singer, songwriter and record producer.
Davido was spotted on the trike in a short video clip where he was riding the trike. The celebrity is known for having many toys like this N1.3m Mercedes Bicycle and his recently purchased N120 Million Lamborghini Huracan.
While some of his followers and fans applauded the feat, some other criticized him. Iwualajoelogechukwu, one of his followers praised the purchase mentality of the artiste. He said, "Obo u too much." However, Nojan, another fan, out rightly criticized the development. He opined, "Why do they buy stupid things."
Video Of Davido's Can-Am Spyder Trike
Can-Am Spyder is a trike manufactured by Bombardier Recreational Products (BRP). It has two wheels in front and one at the back. It is powered by a Rotax 1330 ACE in-line 3 cylinder engine producing 115 hp and 96 lb-ft of torque. With a top speed of 190 km/h (118 mph).
It comes with semi-automatic transmission, Vehicle Stability System and Eco Mode. Comfort is added with wind protection, adjustable rear air suspension, 4-speaker sound system, audio control keypad cruise control as well as saddlebags and glove box for storage.
Other features are an adjustable electric windshield, digital speedometer, AM/FM Audio System With iPod Cable etc. Other security and safety features are Traction Control, Anti-lock Braking System, Dynamic Power Steering as well as Digitally Encoded Security Anti-Theft System.
The variant of the trike Davido was spotted on is the Can-Am Spyder F3-T. With a start price of $21,499 in the US, it's expected to have a start price of about N15m in Nigeria after shipping and clearing.
What do you think about Davido's Can-Am Spyder Trike?