12 Things To Know About Davido's Dad Latest Private Jet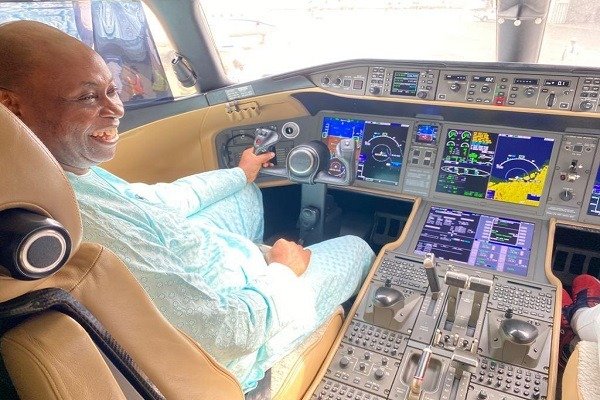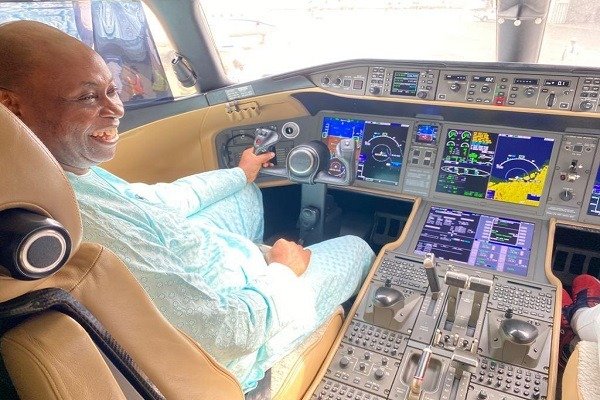 Davido's dad, Dr. Deji Adeleke, acquired a private jet – Bombadier Global Express 6000 –  a month ago. On Sunday, March 1, 2020, the music star uploaded a picture of his dad sitting in a private jet cockpit. In his caption back then, he congratulated his dad.
Davido's dad is one of the most successful people in Nigeria and Africa at large. Over the years, he has been into Real estate, Record labels, Securities, Banking sector etc. He is the CEO of Pacific Holdings Limited.
Dr. Deji Adeleke previously owned a Challenger 605 private jet. However, here are a few things you need to know about Davido's Dad private jet – Bombadier Global Express 6000.
1. The worth of the private jet is a whooping sum of N22.661 billion ($62 million).
2. The is Bombadier Global Express 6000 jet was designed and manufactured by Bombardier Aerospace Company.
3. This aircraft has the widest cabin in its class with more room than its nearest competitor, delivering maximum comfort and an exceptional cabin experience.
4. The aircraft features a spacious three zone cabin to help you conduct a business meetings, relax or get a good night's sleep. Work, rest and entertain is easy with a Global 6000.
5. It can comfortably accommodate up to 18 passengers and 2 crew members. Dr. Deji Adeleke can fly with his immediate family members and some other friends.
6. The average hourly rental rate of the Global 6000 is around N3,156,200 (8,600 USD) per hour. So, any Nigerian who wants to hire this jet for a whole day should set aside N75,748,800. Wow!!! It might seem to be much, but not to some.
7. The Bombardier Global 6000 is categorized as a long range business jet and is a derivative of the Global Express. Originally known as the Global XRS to emphasize its superior range, the business jet was renamed in 2011 to be more consistent with other jets in the Global family.
8. The most notable attributes of the Global 6000 are its incredibly impressive range and spacious cabin.
9. The Global 6000 has one of the quietest business jet cabins available in the aviation industry.
10. This jet can maintains a cruising speed of 580 mph. It has a range of 11,112km/6,000 nautical miles. This translates into a 13 hour range – enough to allow owners to cross time zones and continents to reach destinations for either business travel or trips with the family.
11. It is the only aircraft in its category that features two windows in its lavatory rather than one, making it easier and more comfortable to freshen up.
12. The total annual budget for flying a Global Express private jet 200 hours per year is approximately N553,544,632 ($1,508,296) or N859,135,623 ($2,340,969) for flying 400 hours per year.
Did you enjoy what you read about Davido's dad private jet? Don't forget to like rate and share.