Disparity In Air-Fares At Nigerian Airports; See What Former Aviation Minister Tweeted (PHOTOS)
Osita Chidoka, a former Chief Executive of the Federal Road Safety Corps (FRSC) and former Minister of Aviation in Nigeria a few days ago pointed out the disparity in air travel fair in airports around the country.
In the tweet, he captioned it as below:
"He asked? "Why is the flight from Enugu to China different from other destinations in Nigeria @flyethiopian ENUGU to Guangzhou (CHINA) — N350,000 Lagos to Guangzhou — N280,000 Abuja to Guangzhou — N280,000 Kano to Guangzhou — N270,000 Kaduna to Guangzhou — N280,000″
Osita Chidoka served as Minister under President Goodluck Jonathan.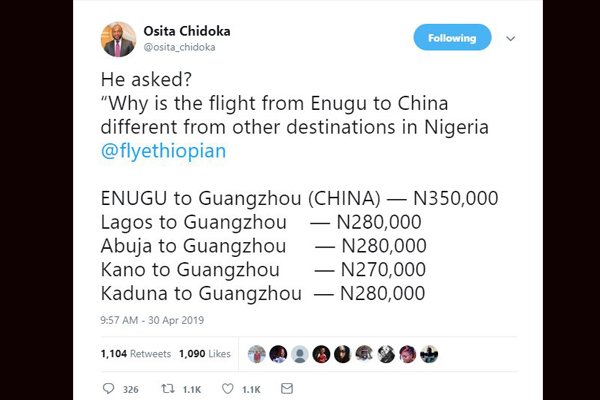 See some reactions to the tweet by Osita Chidoka below.