Does Immigration Officials Have the Authority To Conduct Stop And Search On The Road?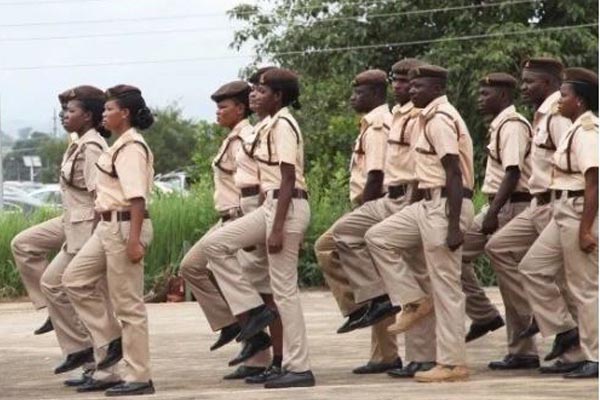 I recently went on a road trip to a South-Southern state in Nigeria. I patronized a popular interstate transport line for the trip.
At one of the inter-state border towns, we came across a roadblock. The roadblock was mounted by some police officers together with a young official of the Nigeria Immigration Service. There was no other immigration official in sight.
The immigration officer then ordered every passenger in the bus to step out with his or her handheld luggage and purses. All the passengers, together with the driver, obliged.
Upon alighting from the vehicle, one after the other, each passenger was subjected to some rather degrading frisk by the immigration official. The female passengers were also not spared.
The search was so intense, to the extent that the women's handbags and purses were rummaged.
Curiously, no one was asked to present a National ID, International passport or any form of identification to prove our nationality.
It soon caught my attention that the uniform of the immigration officer was lacking a nametag.
However, the search was brought to an abrupt end by a female police officer present. This was after I began questioning the authority of the Immigration officer to conduct such manner of search on the express-road.
The female officer barked an instruction for everyone to get back into the bus. Note that, at that point, some passengers, including myself, had not been searched. Apparently, she sensed a "trouble-maker" was in this bus.
As we continued our journey, some of the passengers in the bus informed me that it was a regular occurrence on that route for immigration officers to conduct these rather suspicious stop and search exercise.
Indeed, I understand the need to secure Nigeria from illegal international visitors.   But does an immigration officer have the authority to conduct a stop and search on an inter-state expressway, especially one where passengers are frisked, and no one is requested to identify his or herself with some form of national ID?
Please, informed clarifications are needed.