Check Out The Presidential DS 7 SUV The New French President Used For His Inauguration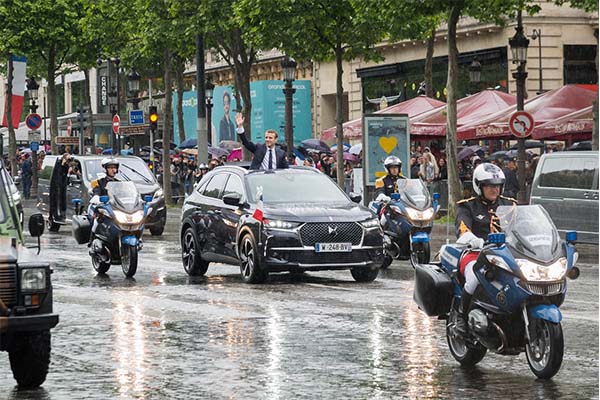 The American president traditionally rides in a Cadillac or Lincoln limousine. In most other countries, they tend to use German or British cars, but chauffeuring their new president to his inauguration in either would be unthinkable for the French – who have their own automotive industry, merci beaucoup.
So what to do when most Renaults, Peugeots, and Citroëns are too low-rent for the purpose, and a Bugatti would be too silly and impractical (even for the French)? Here's your answer.
For the inauguration of President Emmanuel Macron, PSA created this special DS 7 Crossback – based on the flagship model in the French automaker's premium lineup, but upgraded for the purpose.
The Presidential DS 7 is done up in a special ink-blue paint, with a black leather interior, official state insignia and flags, and gold details on the wheels and in the cabin. Most unique about this particular DS 7, though, is the roof: the state limousine has a convertible top to transform the crossover into a parade car so that the gathered masses on the Champs-Elysées can catch a glimpse of their new head of state – even in the rain.
credit: carscoops