Checkout Muammar Gaddafi's Electric Car, The Fiat 500 Castagna (PHOTOS)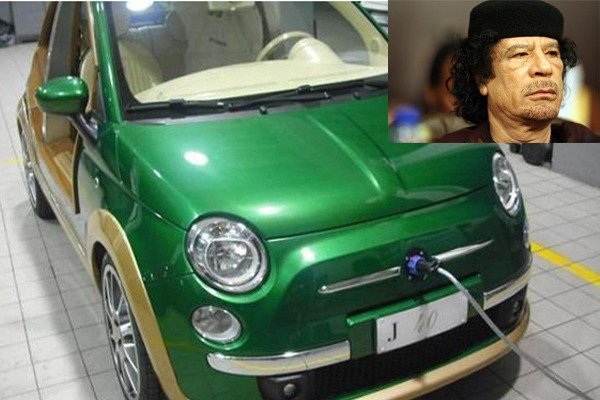 Former Libyan dictator, Muammar Gaddafi, owned an array of expensive cars. They included choice cars such as Mercedes Benzes, Lamborghinis, etc.
However, a particular car stood out from is car collection. It was an electric vehicle – a Fiat 500 Castagna.
An Italian firm, Castagna, customised the car. They received the order for it in 2009 from a then-unknown client.
They began to think that the project might have something to do with Col Gaddafi when they were sent a copy of the Green Book.
The client demanded that the vehicle be delivered by September with a number of custom touches including a two-tone paint job, a cream leather interior, wood trim and numerous Libyan-themed accents.
The Fiat 500 was bright green with gold trimmings. It ran on electricity rather than petrol.
The car bore some of the bizarre hallmarks of the Gaddafi personality cult.
On the bonnet, Fiat logo was replaced with a black map of Africa with Libya picked out in green.
The interior features a back-lit image of a tribal leader known as 'The Lion of the Desert' who fought Italian troops during Libya's colonisation in the 1920s and 30s.
To the right of the dashboard, there is a compass-like chart which is supposed to represent the structure of Libyan society.
The Fiat 500 is run by a lithium-ion battery which powers a 46 PS (34 kW / 45 hp) electric motor. This reportedly enables the car to hit a top speed of 160 km/h (99 mph) and travel up to 260 km (162 miles) on a single charge. The car was produced with no doors.
Interestingly, the car was also ordered with a massive recharging system which allows the battery to be replenished in just 10 minutes.
The customized car was reported to have cost £175,000 (200,000 euros).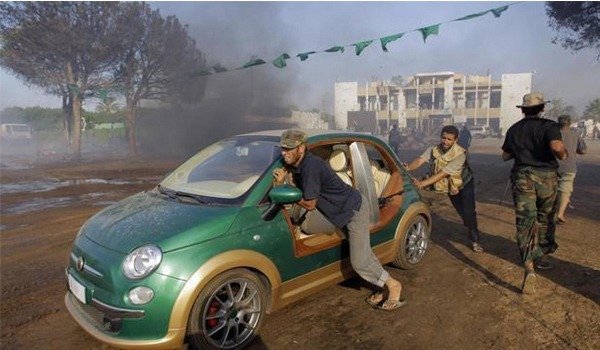 Anti-Gaddafi rebels in Tripoli later seized the car when they overran the Libyan leader's huge Bab al-Azizia compound in 2011.
They discovered the car in an underground garage beneath the complex.