First Fisker Ocean Electric SUV Officially Delivered To A Happy Customer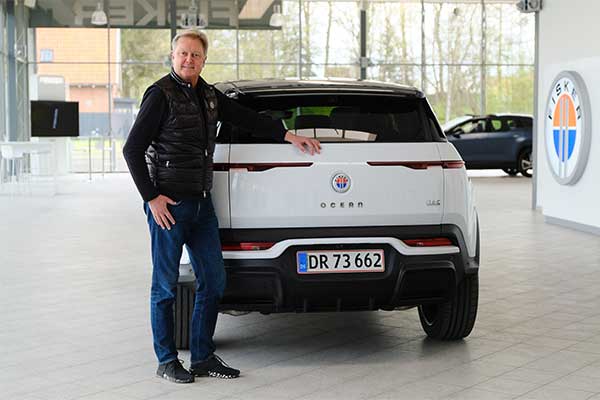 This is a huge milestone for Fisker and on time as well. The company promised the deliveries would begin in May and here we are – the very first Fisker Ocean has been officially handed over to one very happy customer. Henrik Fisker himself was on hand to pass the keys and pose for the photos and to celebrate this most important moment.
The event took place in the newly opened Fisker Center in Copenhagen, Denmark. The vehicle in question was finished in Great White with the Sea Salt interior and white Alcantara seats. The contrasting black 22" AirGlider wheels complete the clean and classy look. This was the first of 5,000 units of the limited ONE launch edition which should all be delivered to the customers before September.
It has been a while since we first saw the Fisker Ocean at the 2021 LA Auto Show. The car received a very warm welcome thanks to its really good looks and many clever solutions. It has to be one of the best-looking SUVs on the market and it is one with the longest range – it received a 440-mile WLTP rating when equipped with 20" wheels and a 336-mile rating with 22" wheels and Fisker expects to achieve a 350-mile rating from EPA.
Fisker Ocean went into production in November, the company is already preparing to expand its production capacity with its partner Magna Steyr who's responsible for manufacturing. During the initial production stages, the company manufactured all test and homologation vehicles with Ocean Sport and Ocean Ultra leaving the Austrian factory recently.
Once the deliveries of the Ocean One edition are completed, Ocean Extreme will follow. European customers are first in line to get their cars, with the US to follow shortly after. The company is still considering the production expansion into the US but its US partner Foxconn is preparing to manufacture Fisker Pear, the second, smaller EV, and no plans were made about the Ocean.