Ford Splits Into 2 As "Ford Blue" Is For ICEs And "Ford Model e" Is For EVs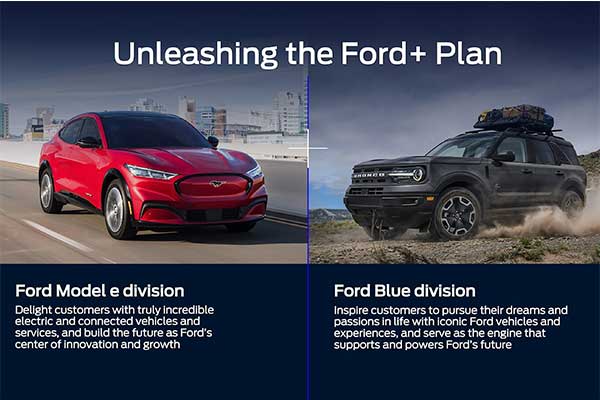 Ford announced today that it is splitting up its automaking business into two separate but interconnected companies called Ford Blue and Ford Model e. The former will handle the production of internal combustion vehicles, while the latter will handle electric vehicles and digital connectivity.
This strategy forms a major part of its Ford+ plan that will ensure the company's growth in the ever-competitive global market.
Speaking on the rollout of this strategy, Ford Executive Chair Bill Ford said: "We have made tremendous progress in a short period. We have launched a series of hit products globally and demand for our new EVs like F-150 Lightning and Mustang Mach-E is off the charts.
"But our ambition with Ford+ is to become a truly great, world-changing company again, and that requires focus. We are going all in, creating separate but complementary businesses that give us start-up speed and unbridled innovation in Ford Model e together with Ford Blue's industrial know-how, volume and iconic brands like Bronco, that start-ups can only dream about," he says.
Note, Ford also has its Lincoln division, which will increasingly benefit from the developments at the Model E division. Lincoln will unveil its first EV later this year (likely to be an Aviator-like SUV) and is tipped to have five EVs in its lineup by the end of 2026. Other divisions at Ford include the Ford Drive mobility and Ford Credit consumer financing divisions.
The automaker is pledging to build more than 2 million EVs a year by 2026. This is a significant increase because recent info from Ford has the company touting the production of 600,000 EVs globally each year by the end of 2023.