Genesis GV80 Coupe Finally Breaks Cover With A 415 Hp Twinturbo V6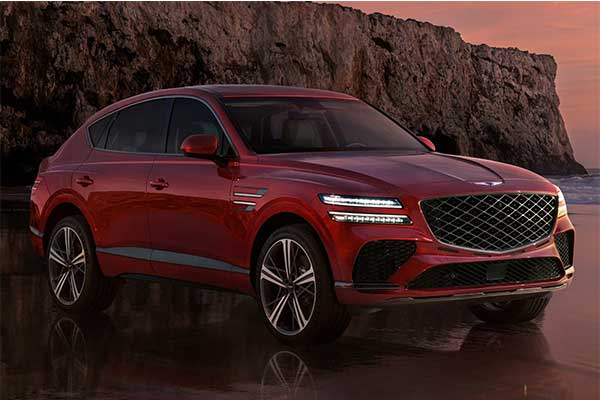 In its home country of South Korea, Genesis has pulled the curtains on the updated GV80 and the brand new GV80 Coupé. It was already known that the GV80 would have a variant with a more sloping roofline. After all, Genesis already showed the fairly production-ready looking GV80 Coupé Concept in April. The big difference with that harbinger? The final GV80 Coupé has – just like the updated GV80 – a completely new interior.
The GV80 Coupé looks exactly like the study model that preceded it. The competitor to cars such as the BMW The arrival of the GV80 Coupé coincides with that of the updated regular GV80. Compared to the original launched in 2020 that SUV and a new snout with a refreshed grille with more rounded corners and new double diagonal lines. The split headlights remain. The GV80 does get a completely new front bumper. The changes are milder at the rear. The GV80 gets a new rear bumper and with that, we have discussed the biggest news about the appearance here.
The GV80 Coupé immediately receives the significantly updated interior that Genesis also introduces in the regular GV80. The relatively traditional interior with instruments housed under a canopy and a separate infotainment screen makes way for a gigantic, 27-inch wide single OLED screen. The buttons in the center console have also been redesigned. Genesis introduces, among other things, a new steering wheel in the GV80, and the bottom of the dashboard has also been renewed – just like the wide outlet opening for the ventilation system. Genesis is adjusting the center tunnel and also bringing new materials to its SUVs. In contrast to the GV80, the GV80 Coupé has a steering wheel that is flattened at the bottom; After all, it is the GV80's brother, marketed as sportier.
Both the GV80 and GV80 Coupé are available in South Korea with a 304 hp blown 2.5 four-cylinder and a 380 hp 3.5-liter six-cylinder with turbo. The GV80 Coupé will also have a variant with a 415 hp version of the 3.5 V6.