Go Fast Campers Transforms The Ford Maverick Into A Pop-Up Tent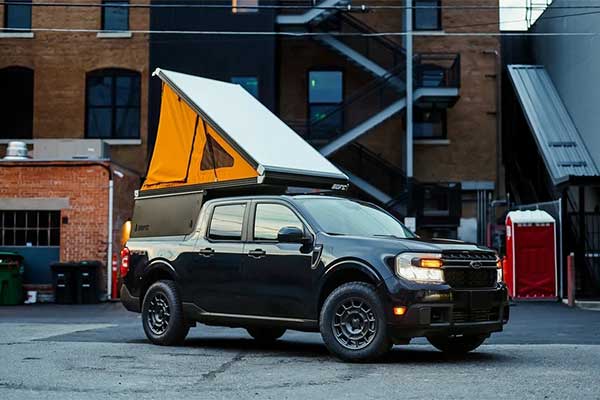 The Ford Maverick Is gradually becoming the brand's best-selling vehicle and it's not long before it gets numerous customizations and the boys from Go Fast Campers have already transformed the small truck into a pop-up tent.
GFC claims that this is the most spacious camper available for the Maverick, and also claimed to be the lightest, strongest, most durable, and most practical. It uses a downsized aluminium space frame (compared to GFC's other platform campers), along with machined-from-billet components, lift panels, embassy hinges, modular floor, and T-track load halo.
Specifically designed for Ford's tiniest truck, the GFC platform camper has a sleep surface that measures 50 inches wide and 90 inches long. Along with a two-layer foam mattress, it also features a 7.5-foot-tall, pop-up living space. All of this fits within the outline of the truck's bed, and—measured above the roof-mounted antenna—it adds 6.5 inches to the Maverick's overall height when closed.
Price? Well, the Platform Camper costs $7,700. Not exactly affordable for a pop-top tent, but at least it's made in the U.S. from high-quality materials. Put it on a base Maverick, however, and the entire package will set you back $28,695, which is about as much as a Subaru Outback.
The company says it can be available as soon as eight weeks for those looking to buy a GFC platform camper for their Maverick. GFC also offers to install the camper at its facility in Bozeman, Montana, but it's unclear if that costs extra.