Airstream And Porsche Showcases An Electric Travel Trailer Concept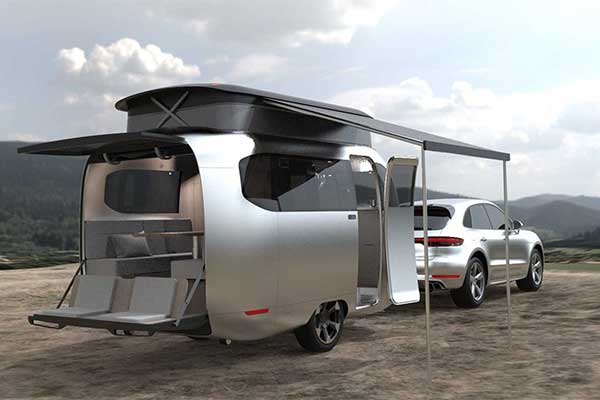 A transatlantic partnership between Airstream and Porsche has resulted in a modern-looking travel trailer concept that debuted today at SXSW in Austin, Texas. The trailer is designed to be pulled by a small SUV or an electric vehicle, and it's meant to serve as a vision of what an urban-inspired camper could look like.
Officially dubbed the Airstream Studio F. A. Porsche Concept Travel Trailer, this concept is underpinned by a 10-inch deep skateboard-style chassis that incorporates the camper's holding tanks, batteries, and associated electronics. Airstream and Porsche wanted to make it more accessible to those who don't have a ton of room for storage, so its already-compact shape was further augmented with an adjustable-height suspension that can drop it low enough to fit in some residential garages (or to improve aerodynamics on the road). A pop-up roof and detachable exterior awning help expand the concept's habitable space once you reach your destination.
Since towing with an electric vehicle isn't ideal, the companies focused on creating a lightweight and aerodynamic trailer. This is right up Airstream's alley and the concept features a classic aluminum body as well as carbon fiber and composite materials.  The concept also eschews rivets for improved aerodynamics as well as less visual clutter.
Is there a chance of a production model? Well, this is what Airstream Boss Bob Wheeler said  "While our concept projects don't always reach the marketplace, the resulting lessons and innovations often influence present and future designs as they make their way into our main product lines.