Audi Showcases The Activesphere Which Is A Part Coupe SUV Part Pickup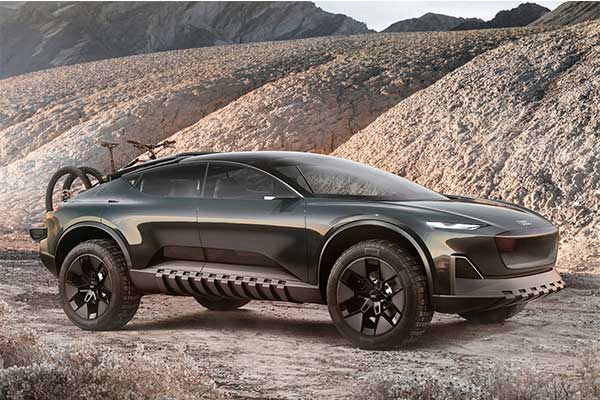 Audi has managed to combine elements from a number of vehicle types for the fourth and final member of its series of Sphere concept vehicles. Unveiled on Thursday, the new Audi Activesphere concept is a crossover with a coupe-like body that integrates a bed and a tailgate at the rear.
Following the Skysphere two-door grand tourer, the Grandsphere flagship sedan, and the Urbansphere minivan, Audi designers gave the Activesphere a raised four-door coupe stance. The aerodynamic, almost single-volume silhouette is unconventionally mated to a set of 22-inch wheels shod in grippy tires (285/55R22), while the slim and muscular bodywork features plenty of protective cladding.
At the press of the button, the rear hatch splits. The top half slides up the roof to open up the cargo area, and the rear flips down to become the tailgate. The whole cargo area has rugged materials to handle dirty and bulky items. There are even brackets to easily mount bikes. And to keep the passenger area enclosed and safe from weather and dirty cargo, a divider rises up behind the rear seats.
Inside, the sparse four-seat cabin is designed for passengers. When the car is in autonomous mode, the dashboard, steering wheel, and pedals disappear, but the large sound bar and full-width air vent remain functional. The seats appear to float in the cabin, attached to the center console that features heating and cooling capabilities while lacking your traditional screens and controls.
One of the concept's key features is the augmented reality headsets available for drivers and passengers. They allow Audi to superimpose virtual content, like vehicle control panels, information displays, and more, on top of the real world and the cabin.
Like its conceptual companions, the Activesphere is electric, riding on the PPE platform that will underpin the upcoming A6 e-tron as well as Porsche's electric Macan. A 100.0-kWh battery provides over 370 miles of range, and electric motors on the front and rear axles combine for 436 horsepower and 531 pound-feet of torque. PPE also brings 800-volt electrical architecture, allowing the battery to add around 186 miles of range in 10 minutes at 270 kW. Audi also claims the battery can go from 5 to 80 percent in under 25 minutes.