This Hi-Tech Smart Crossing Lights Up Safest Walkway & Warn Drivers Of Risks Ahead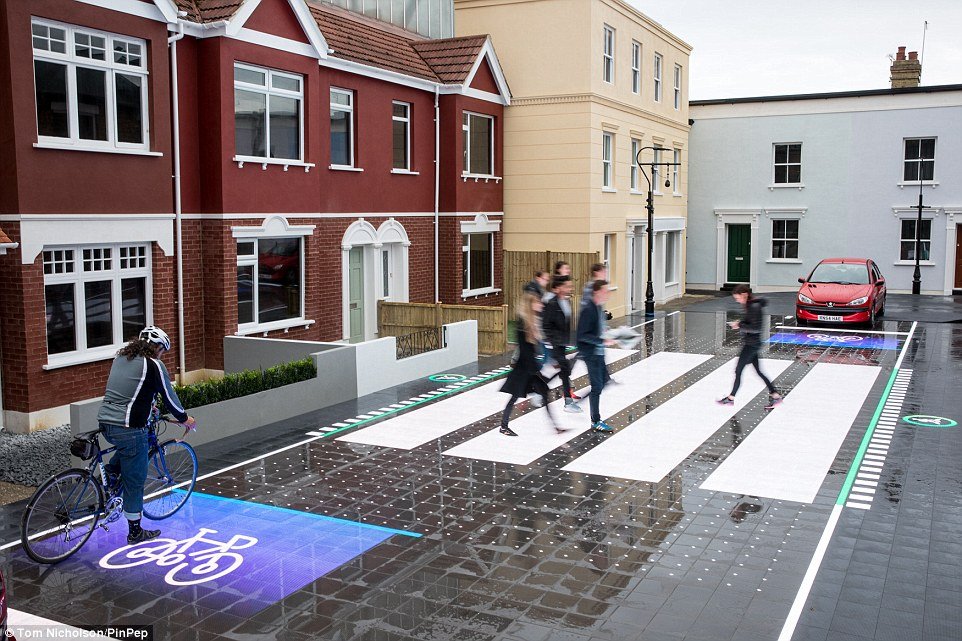 It is believed the good old fashioned zebra crossing turns out they and other pedestrian crossing,aren't doing enough to save lives.
The Smart Crossing,developed by insurance company Direct Line,can see what is happening around it using computer vision and update the road markings without manual control.
It said many of the features were brainstormed using Transport Research Laboratory data identifying a number of reasons why crossings are a potential danger zone.
It found that a pedestrian's position and route as they cross the road, the influence of other pedestrians who are dangerously walking from one side of the street to the other and overcrowded crossings are all factors that can make them hazardous.
To reduce the risk, it came up with the idea of responsive roads that could cope with the growing number of users.
To put the theory and technology into practice,the insurer worked with University College London and urban design specialists Umbrellium to create this section of highway that can light-up like the advertising screens.
The working prototype is a 22-metre long section made up of a patchwork of LED panels.
Using cameras positioned at each end of the street, the technological brain of the system monitors what's happening on the stretch of highway and triggers the panels to lights up to offer a safe place for pedestrians to cross and also alert other road users that there are people in the road up ahead.
The intelligent computer can even map and pre-empt pedestrians' movement to respond to alerts it flashes up through the road surface.
Because it is fully adaptable, it means it can measure how many people are stood at the side of the road waiting to cross and adjust the width of the zebra crossing it creates through the panels.
This could be extremely useful outside schools and live sport and music events where large crowds are attempting to cross busy routes.
The cameras can also detect when unusual risks occur, such as a child chasing a football into oncoming traffic.
A bright red arrow identifies the route the child would take and at the same time alerts incoming drivers, motorcyclists and cyclists to stop further up the road with illuminated signals flashed through the surface.
It can also provide warning signals to pedestrians, notifying them when they're being hidden from another road user's view by a high sided vehicle, like a bus or lorry.
The pavements also glow to grab the attention of daydreaming pedestrians engrossed in their mobile phones or listening to music to prevent them from strolling into the road without looking.
This prototype is also waterproof,can hold the weight of vehicles and can recognise the difference between pedestrians, vehicles and cyclists.it's ready to change the future of how we cross the road.
How it works

Step 1: The Smart Crossing identifies which part of the road would be the safest place for a crossing after scanning the risk in the area. Walk up to the spot on the pavement that suggests where the crossing will be and it assesses the risk based on the traffic flow

Step 2: Once the progress bar turns green, so does the spot you are stood on. A zebra crossing then shines through the road directing you to head across. There are also new markings on the road from cars and vans telling them where they need to stop and a blue section for any approaching cyclists to stop in ahead of the other vehicles
Credits:http://dailymail.co.uk
See Related Post 10 driving offences in Lagos and their penalties