Honda And LG Energy Solution Ltd Collaborate To Build A $4.4 Billion Battery Plant In The US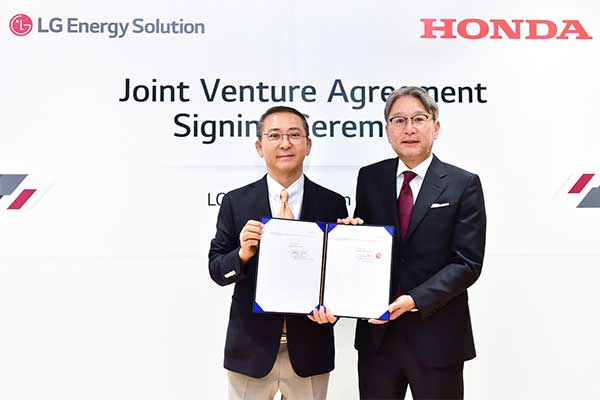 Honda and South Korean battery maker LG Energy Solution Ltd. will spend $4.4 billion to build a new battery plant in the US as the Japanese carmaker seeks to phase out fossil-fuel vehicles completely by 2040.
The facility will have an annual capacity of about 40 gigawatt-hours with mass production slated to start at the end of 2025, Honda said Monday in a company filing. The duo will set up a joint venture this year in which Honda will hold a 49% stake by investing $1.7 billion. Construction is expected to start by early 2023. The factory will build pouch-type lithium-ion batteries. These packs will go into both Honda- and Acura-badged EVs for the North American market.
In a statement Toshihiro Mibe, president, CEO, and representative director of Honda Motor Company said "Aligned with our longstanding commitment to building products close to the customer, Honda is committed to the local procurement of EV batteries which is a critical component of EVs,". Honda has a multi-part strategy for its EV future. Things kick off in 2024 with the arrival of the production-spec Honda Prologue and revived Acura ZDX. Both of these electric models ride on the General Motors Ultium platform. There's a rumour that GM's factories might also build these products.
Honda in April announced a wide-ranging strategy that will see the automaker invest more than $60 billion in R&D over the next 10 years, with the bulk of the funds to be spent on the development of EVs, as well as software. The strategy will see Honda launch 30 EVs globally by 2030 for its Honda and Acura brands, including two sporty models, one of which is believed to be a redesigned NSX supercar.