Honda Civic Sedan Tries To Look So Much Like A Type-R (Photos)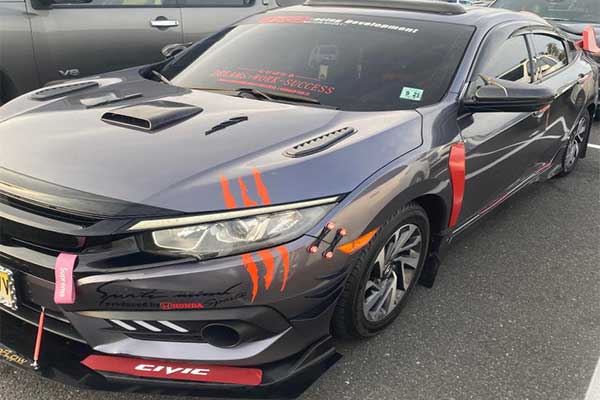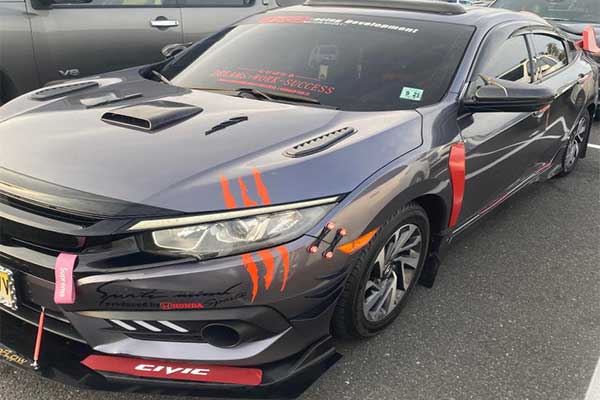 The Honda Civic Type-R is the most powerful model of the lineup which is available only in a 5-door variant. To bad that the sedan has been left out but a customer thought otherwise and transformed his Civic sedan into a Type-R lookalike. How did he do it? Well, he slapped some aftermarket parts to the Civic sedan and it was overboard.
Starting from the obvious exterior,  the sedan has been equipped with a sharp new front splitter and a host of stickers, with one reading 'produced by Honda Sports'. Also visible at the front end is a hood scoop and carbon fibre air vents. The windshield has also been plastered with stickers, one of which says 'I never dreamed about success, I worked for it' while the other is a sticker for 'TRD Racing Development Motor Sports.' Quite weird, this one; perhaps the owner doesn't realize that the 'T' in TRD stands for Toyota, not Honda…
Furthermore, you can see what seems to be a large hood scoop in front of the sunroof. The side mirrors are fitted with a set of carbon fibre wing mirror caps and some bolt-on side skirts. Concluding the modifications is the rear wing of a Civic Type R and the vortex generators on the roof. Although the modification is not hideous but it's just too cheezy and makes the Civic sedan looks weird.