Hydrogen-Powered Toyota Mirai Drove 845-Mile Without Refueling, Sets Guinness World Record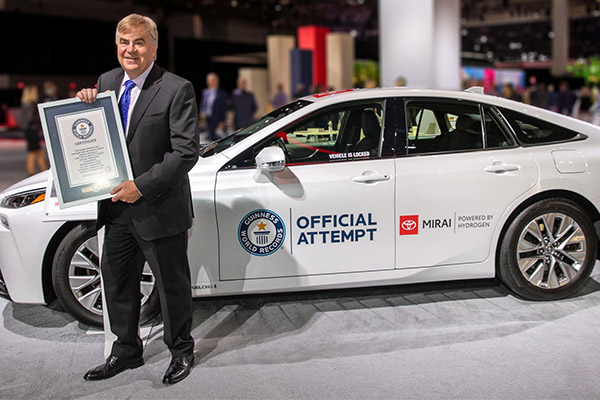 Toyota Mirai sets 845-mile Guinness World Record for longest fuel-cell electric drive without refueling. 
The tank was only filled once, which was at the beginning of the tour, which took five minutes.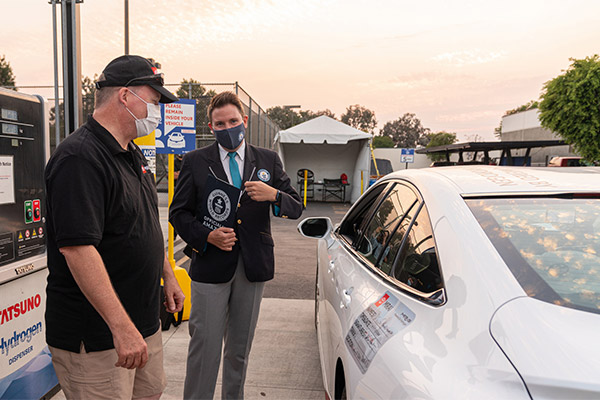 A Toyota Mirai has earned itself a Guinness World Record for the longest distance traveled by a hydrogen fuel cell electric vehicle without refueling. The car managed to travel 845 miles (1,360 km) on a loop of southern California in August.
Guinness World Records adjudicator Michael Empric was on hand to validate that the Mirai's fuel tank was never opened during the drive, which took place over two days, August 23-24. The tank was only filled once, at the beginning of the tour, which took five minutes, reports the automaker.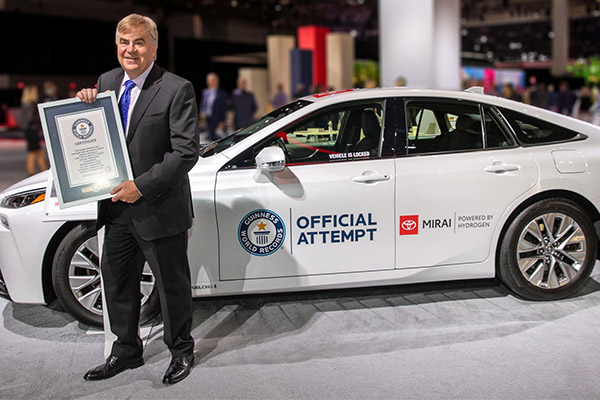 The drive started at the Toyota Technical Center in Gardena, California with professional hypermiler Wayne Gerdes at the wheel and his co-pilot Bob Winger in the passenger seat. The first day's driving took them 473 miles (761 km) from their starting point, south to San Ysidro, then back north through Santa Monica and Malibu along the Pacific Coast Highway before returning home to Gardena.
On the second day, the pair followed a local driving route that took them through rush hour traffic on the San Diego freeway between Los Angeles and Orange County. The route saw them return to TTC Gardena after 372 miles (598 km) of driving.
After both days' driving, they managed to hit an efficiency rating of 152 MPGe. A Tesla Model 3 Standard Range Plus RWD, for reference, is rated as the EPA's most efficient car with 142 MPGe combined.
"As a Guinness World Records adjudicator for 10 years, I've had the opportunity to witness incredible attempts, including several distance-related feats," said Empric.
"The Toyota Mirai's journey without the need to refuel showcases the power of fuel cell electric technology. This technology and the design ingenuity by the team at Toyota led to a history-making moment."
The Mirai consumed 5.65 kg (12.45 lbs) of hydrogen and directly emitted no CO2, though it did produce some water. A standard car, Toyota estimates, would have emitted about 664 lbs (301 kg) of CO2 in that same distance.