LASEMA To The Rescue As Fire Razes Iddo Railway Terminal, Ijopa Olopa (PHOTOS)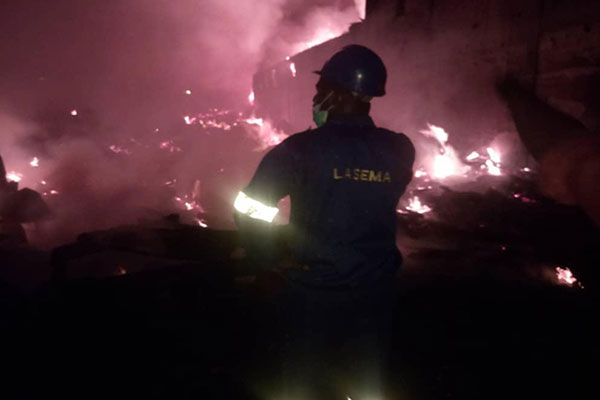 LASEMA to the rescue as fire razes Iddo railway terminal, to Ijopa Olopa area of Lagos State.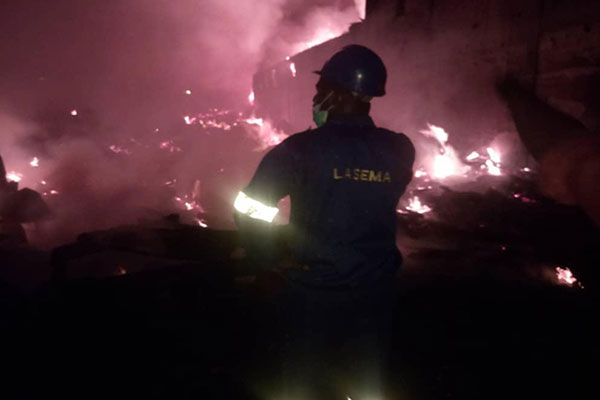 Fire has reportedly razed Iddo railway terminal at Ijora Olopa area of Lagos state. Thick smokes and balls of fire emanated from the terminal, ravaging the atmosphere.
Director General, Lagos State Emergency Management Agency, LASEMA, Dr Femi Oke-Osanyintolu, confirmed the fire outbreak.
He said men of the federal and state fire services were on ground to put out the raging fire.
According to eyewitness, the incident started at about 6pm, Sunday.
Oke-Osanyintolu said in a statement that:
"The agency activated its response team to the above scene to dicover a fire which power surge caused when there was restoration of electricity.
"While there appears to be no loss of life, the agency is working alongside the Lagos And Federal Fire Services to control the fire and curtail the extensive spread of the flames."
Lagos Terminus, also known as Lagos Iddo, is the main railway station of the city of Lagos. The rail terminus is located on Iddo Island, nearby Lagos Island and in the middle of the city.
The station, located in front of Carter Bridge and by the Lagos Lagoon, has a large two floor terminal building.
It counts also a pair of train sheds: one located just outside the station platforms and a larger one located 2 km north, nearby Lagos Yaba station.
The line serving Lagos Terminus, as well as the entire national network, is not electrified; and the track gauge is narrow.