LASEMA Averts Fire After An Overturned Diesel Tanker Spilled Its Contents At Festac Link Bridge (Photos)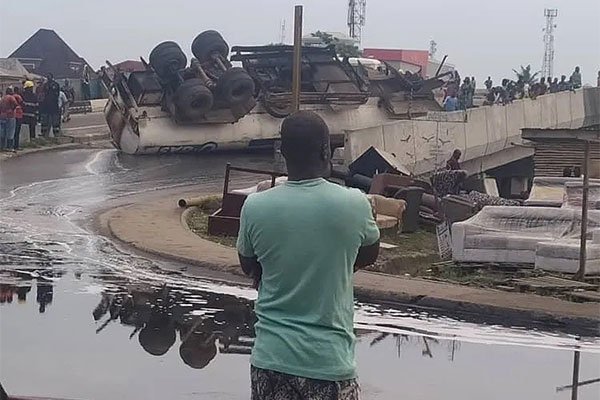 Lagos State Emergency Management Agency (LASEMA) averts fire accident after an overturned diesel tanker spilled its contents at Festac Link bridge.
Lagos State Emergency Management Agency (LASEMA) effectively averted a possible fire outbreak on the early hours of Sunday after a laden tanker overturned at Festac link bridge in Lagos.
According to report, the incident happened while the tanker laden with 33,000 litres of diesel overturned was ascending the Festac link bridge. The crash caused the tanker to spill its flammable contents on the road.
On hand to support LASEMA includes the firefighters from Lagos Fire Service and the Nigeria Police. Fire Service presence will effectively douse any fire outbreak while the police prevented miscreants trying to scoop the flammable product.
The remaining diesel was later trans-loaded into another tanker to avert a fire disaster; according to the Director-General, Lagos State Emergency Management Agency, Olufemi Oke-Osanyintolu. He added that emergency responders were on the ground to prevent any secondary incident.
Road was restored to vehicular activities at about 10. 47 pm on Sunday after LASEMA's heavy-duty equipment, Forklift, recovered the tanker and placed it on the lay-by.