Meet Kelly Omodamwen, The Nigerian Who Uses Car Spark Plugs For Sculpture
Cars use spark plug to generate sparks needed for the engine combustion chamber, but Mr Kelly Omodamwen uses them differently. He doesn't use them to power cars or even electrical generators; he use good number of them for his sculpture work.
According to Kelly, he got most of the spark plugs from mechanic workshops. Mechanics were even happy he was helping them pack their worthless used spark plugs. It was quite unknown to them he was on a mission to build something wonderful from the worthless spark plugs. Kelly didn't hesitate to pick used spark plugs he sees lying carelessly on the road. His mother on her on side, helped him gather used spark plugs. What a mother!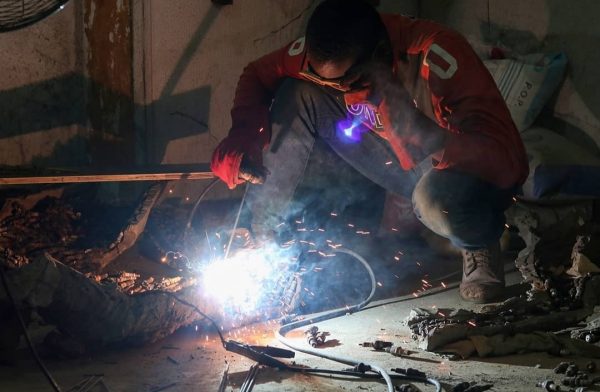 The birth of Kelly using spark plug for art can be traced back to his final year in the tertiary institution during his project. His mindset then was to stand out from the crowd; he wanted something unique.
A project requires thousands of spark plugs of which he said took him over a year to gather such number. This will tell you why he had to double his hustle for spark plugs. Even when seated in a bus and he sees one inside the car, he asks the driver if he can take it. That's how weird it can be.
With these numerous spark plugs, Kelly was able to sculpt a ram. This seems to be the first of its kind in this part of the world.
See pictures of his work below;