Lady Mechanic, Mrs. Sandra Aguebor Gets Inspirational Award From Ambode (Photos)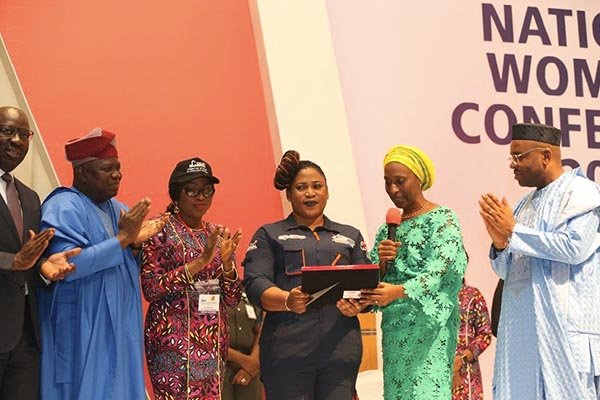 Governor Ambode said.. "Nigerian women in different spheres are naturally gifted with skills and talents that make positive impact in the society. Our women have the capacity to positively affect the Nigerian economy and are already doing so".
Congratulations to the lady mechanic, Mrs. Sandra Aguebor, recipient of the Inspirational Woman Award. She has "created and transformed" in an area regarded as solely reserved for men. The award was presented to her by the wife of the Vice President of Nigeria "Mrs Dolapo Osinbajo".
Sandra Aguebor is the
first lady mechanic in Nigeria
. She grew up in Benin City and had the vision to become an auto mechanic at the age of 13. She has defied all odds to become a force to reckon with. She has also added tremendous value to the society by training sex workers, orphans, and victims of trafficking to be mechanics.
See Related Post Meet Fatima Ajus – An Amazing Female Aircraft Mechanic Doing Her Job (Photos)