Twitter User Reports Lagos Police Vehicle For Driving Against Traffic, The Vehicle Is Then Recalled (PHOTOS)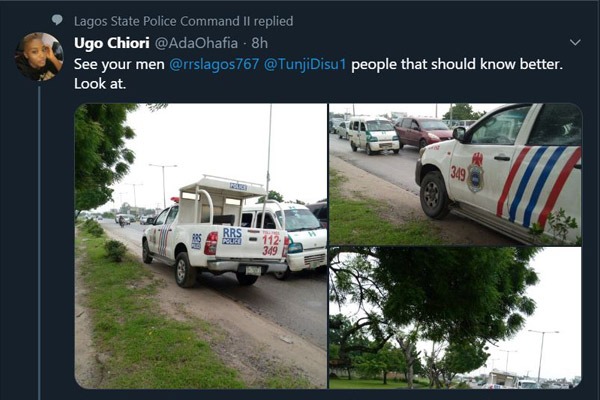 It all began when a Twitter user with the handle @AdaOhafia tweeted photos of a Rapid Response Squad (RRS) vehicle driving against traffic. Lagos Police
In the tweet, the twitter handle of the RRS, together with the handle of Tunji Disu were mentioned.  Disu is a Deputy Commissioner of Police, and the Commander, Rapid Response Squad (RRS),
The tweet had the caption, "See your men @rrslagos767 @TunjiDisu1 people that should know better. Look at".
Interestingly, this simple message eventually got the attention of the Lagos State Police Command.
In a reply to the post, the State Police Command, said;
"Thank you for bringing this to our notice. The vehicle has been called back to base and the personnels involved will face disciplinary action. #TheGoodGuys"
Clearly, this is a further testament of the power of social media.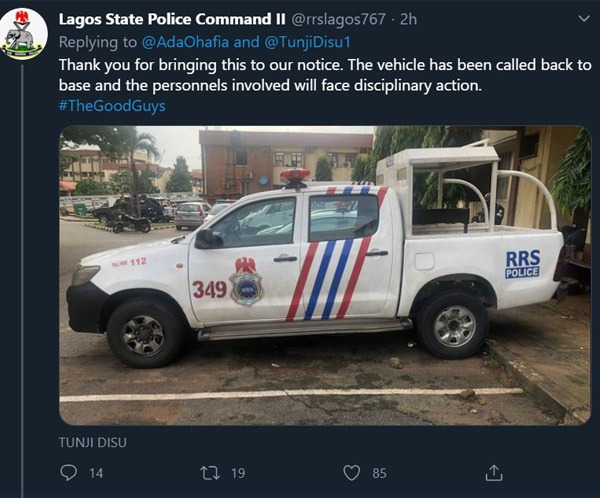 Rapid Response Squad (RRS) is a section of the Lagos State Police Command set up to respond speedily to emergencies within Lagos State.
It was initially referred to as 'Operation Sweep' during the Buba Marwa military administration However, it was later restructured and re-organized and renamed 'Rapid Response Squad' [RRS] by the Tinubu Administration.
The Squad was charged with the onerous task of flushing crime out of every part of Lagos State.
The RRS comprises of about two thousand officers.
The Lagos State Security Trust Fund (LSSTF) equips the Rapid Response Squad (RRS), through the donations and contributions from Organizations and well-meaning individuals, to enhance its operational capability and the effectiveness of the men of RRS.
This is reflected in the thousands of motorbikes, patrol vehicles, helicopters, gunboats, ballistic helmets/bullet proof vests, raincoats/boots, etc provided for the RRS which has helped to significantly reduce the crime rate in the State. The LSSTF is the "unseen" face behind the RRS.