Post Lockdown: Lagos Traffic Robbers Return With Intensity
There has been a spike in traffic robbery on Lagos roads. This was noticed since the easing of the lockdown occasioned by the COVID-19 pandemic.
There have been several reports on how miscreants have seized every available opportunity to dispossess commuters of their belongings. There was a report of two men, who fell victim to hoodlums along the Lagos-Badagry Expressway on May 7, 2020.
Also, the Rapid Response Squad of the Lagos State Police Command arrested one Mayowa Adedoyin for allegedly attempting to rob a man in traffic. This particular one happened on Saturday, June 6, 2020.
The 19-year-old and his accomplice had attempted to rob the victim in the Oshodi area. The attempted robbery was foiled by the RRS personnel. While Adedoyin was apprehended, his accomplice fled the scene.
Since life gradually returned to the metropolis, traffic robberies had become the new normal in the state.
This has been aided by the bad roads in most places. The construction activities on some of the roads have also provided ammunition for the different traffic robberies. They are mostly carried out by street urchins with no known addresses.
For instance, from the Charity bus stop through Oshodi Oke, up to Anthony bus stop and Gbagada, all motorists are restricted to the service lane of the Apapa-Oshodi Expressway due to the ongoing reconstruction of the road.
Hoodlums or traffic robbers, who mingle with hawkers, use the accompanying gridlock as a cover for their nefarious activities as they pick on vulnerable motorists like women and young men driving alone to rob.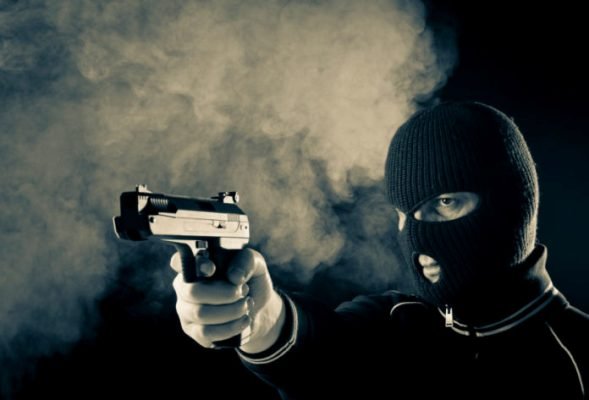 Sometimes, the hoodlums inflict injuries on their victims, who are hesitant in yielding to their demands.
However, the state Police Public Relations Officer, Bala Elkana, said the command had not received any report about traffic robberies. That is since the lockdown was eased.
According to him, the personnel of the command have been patrolling the state to ensure the safety of lives and property.
He said, "We don't have any recent report on traffic robbery since the easing of the lockdown. What we got was a complaint about the 'one chance' syndicate, the members of which were arrested and their vehicle impounded.
"We have 24-hour patrol going on in the state; we have our motorbikes and traffic robbery teams patrolling the state; our teams are all over the state to ensure the safety of residents."