See How Lagosians Scrambled To Board A BRT Bus (PHOTOS)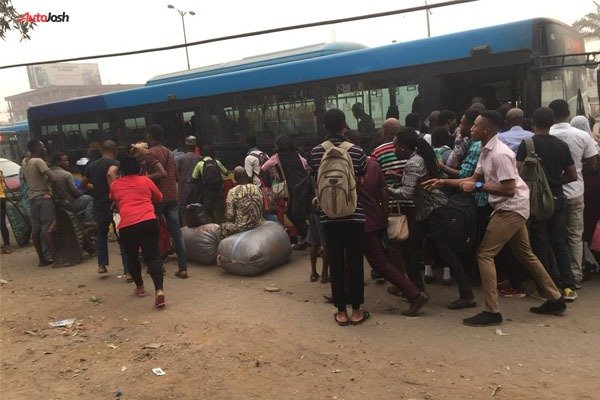 Board a BRT: See How Lagosians Scrambled To Board A BRT Bus
The ban on Okada and Keke was instituted a few weeks ago. These modes of public transportation were banned by the Lagos State government. Safety concerns were given as the reason for the ban.
They said the commercial motorbikes, known as Okadas, and tricycles, called Kekes, caused "death and disorderliness".
Since the enforcement of the ban a few weeks ago, the hardship experienced by Lagosian is yet to be abated.
Bus stops have become battlefields where commuters battle themselves for space in any available bus or commercial private vehicles.
Lagos State, which is notorious for traffic jams, is home to at least 20 million people.
The ban on this popular means of public transport has caused a good measure of losses to some individuals and organizations.  However, there are also those who are benefiting from the ban.
One of the gainers of this recent Okada and Keke ban is the Bus Rapid Transport services, otherwise referred to as BRT. The demand for BRT buses has indeed soared in recent times.
With the ban on Okada and bike-hailing services like Oride, Gokada, etc, most people whose routes are covered by the BRT buses, now patronize the BRT service.
Crowded BRT parks and the struggle for seats in the buses are some fallout of the Okada and Keke restrictions in the state.
Below are photos below of how commuters now scramble to board a BRT bus.