James Ibori And Billionaire Ayiri Emami Step Down From A Private Jet (PHOTOS)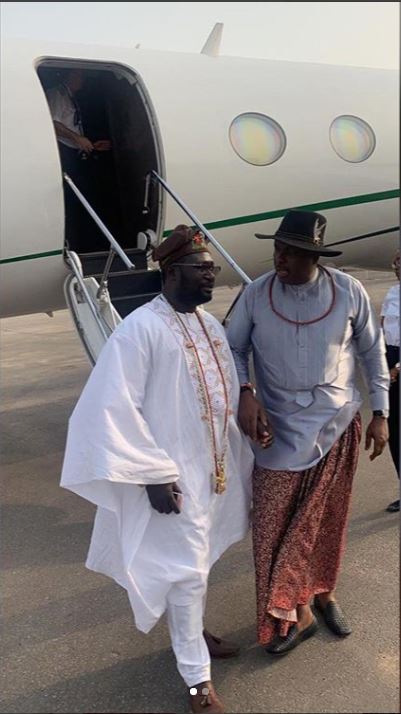 Niger-Delta Power Brokers, James Ibori And Ayiri Emami Steps Down From A Private Jet (PHOTOS)
Ayiri Emami is a business mogul, politician and philanthropist. He is the chairman and chief executive officer of A & E group. The company has investments in oil and gas, construction, haulage, entertainment and the hospitality industry.
Chief Ayiri, the Ologbotsere (Prime Minister) of Warri Kingdom, was one of the youngest founding member of the People's Democratic Party (PDP) in Warri, Delta State.
He defected to the ruling All Progressive Congress (APC) in April 2015. He is currently one of the party's leaders in Delta State.
The 44-year-old Ayiri is a long-time political associate of former governor of Delta State,  Chief James Ibori.
James Onanefe Ibori was Governor of Delta State from 29 May 1999 to 29 May 2007. An ethnic Urhobo by descent, he is a member of the People's Democratic Party (PDP).
In 2012, Ibori was sentenced to 13 years in prison for fraud and money laundering in the UK. He was released from prison in December 2016 after serving 4 years out of the 13 years he was sentenced to.
Ayiri recently published a photo on Instagram. The photo had him and Ibori alighting from a private jet.
He captioned the post, "Just touched down Lagos with the one and only ODIDIGBOIGBO of the world".