See The 6-wheeled Range Rover Limousine That Was Captured By Google Maps Street View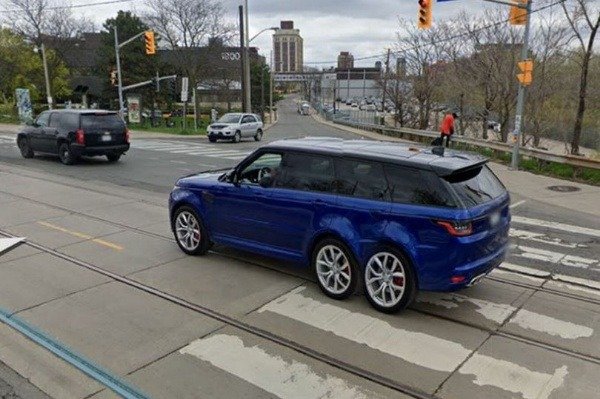 Is this 6-wheeled Range Rover caught on a Google Maps Street View camera in Toronto for real or a glitch?
Google Maps — one of the most popular navigational apps around — has snapped a picture of a unique six-wheeled Range Rover SUV.
The photo of the strange Range Rover was snapped by Google Maps Street View camera on the streets of Toronto.
The bizarre photo was spotted by eagle-eyed Reddit user Zegorn. The sighting has now sparked internet debates as to whether the six-wheeled SUV is real or a Google Maps glitch.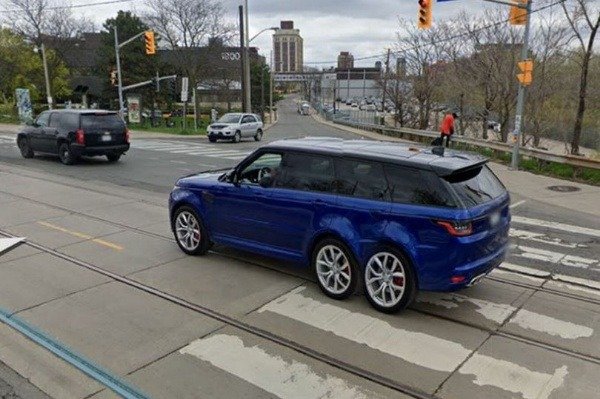 Zegorn wrote:
"Secret new 6-wheeled Land Rover sighted," alongside a winking face.
One user replied:
"That's one of the cleanest glitches I've seen, almost looks real."
Glitches are fairly common on Google Maps Street View. That's why you sometimes end up seeing people with no heads or even trees floating in the air.
Google Maps creates the images by stitching together the 360 – degree image — meaning small errors can easily occur, thereby making the pictures overlap.
An example is a mysterious 'ghost' couple, with translucent bodies, that was spotted on Google Maps last year.
The woman, who wore a jacket, jeans and sunglasses, was walking alongside a male companion on the streets of Quebec.
Thankfully, there's an explanation for the Google 'ghosts'.
The frightening appearance is due to a photography glitch, which meant that the couple weren't fully pictured by the Google Maps car.
Google says it is currently working on the algorithm for the stitching process. The update should make such glitches less common.
Still on this 6-wheeled Range Rover SUV…
Customised Land Rover and Range Rover Sports Utility Vehicles are not an unusual sight on the streets.
The boxy-shape British-made Land Rover Defender was one of the most adapted vehicles ever.
We've also seen the Range Rovers models receive awesome customisations and personalisations.
Recently, a one-of-a-kind Range Rover Limousine specially built by order of the Sultan of Brunei was on sale for ₦11.3 million
Given the clarity of this image, do you think the 6-wheeled Range Rover really exist or just another case of Google Map glitch?