Latest 2022 Mercedes-Benz Citan Already A Campervan (Photos)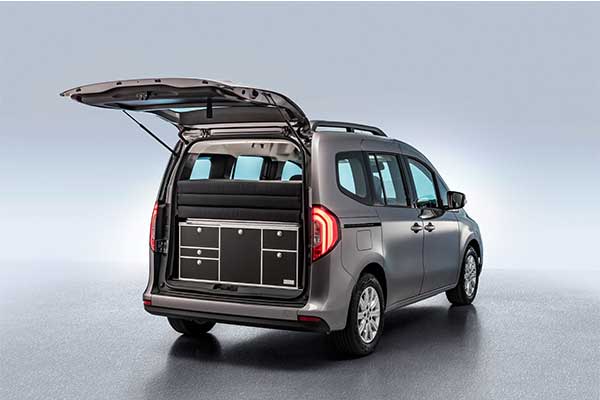 Just a few days after Mercedes-Benz launched the 2022 Citan van, a campervan version has also joined the mix. It is not an installation by an external company, but it is the Stuttgarters themselves who, together with VanEssa, turn the small delivery van into a camper.
A mattress runs along the entire length of the body, up to the front seats, on which two people can easily sleep. When you are driving you can fold up the mattress and also use the second row of seats. There are drawers under this mattress. In addition to cupboards for your things, there is also a hidden kitchen.
For example, the camper has a gas stove, a sink and a refrigerator of 31 litres. The entire kitchen module weighs only 60 kilograms (when the 13-litre water tank is empty). If you don't want to take the kitchen module with you, it can be removed within a few minutes.
Due to the pandemic, camper vans have become a lot more popular in recent years, offering an alternative to hotels in a time when some people prefer to avoid air travel for vacation. Mercedes states that "vehicles with external dimensions close to those of a passenger car" are becoming increasingly popular.
Bear in mind Mercedes is also putting the finishing touches on an upscale version of the Citan that will inaugurate the T-Class moniker. Much like the regular van has spawned a fully electric e-Citan, there's going to be an EQT already previewed by a namesake concept. It will be interesting to see whether companies specialized in camping accessories will focus on the premium version or stick to the mainstream one.