Throwback Photos Of When Lekki-Ikoyi Bridge Was Being Built By Julius Berger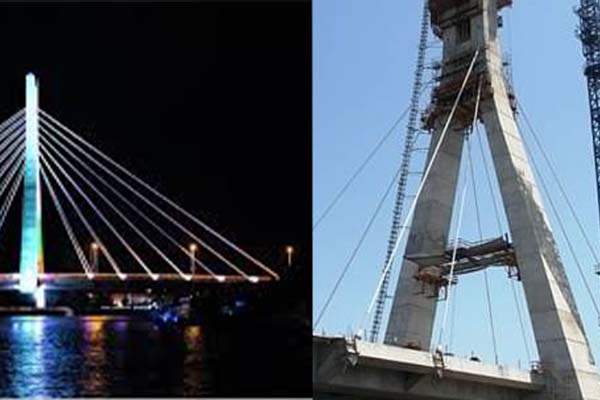 Julius Berger is a popular name virtually every young and adults in Nigeria is familiar with. Even if not for the sake of the name, but for the massive constructive projects done on the Nigerian soil since the '60s. This includes the popular Lekki-Ikoyi bridge constructed in 2013.
About Lekki-Ikoyi Bridge
The Lekki-Ikoyi Link Bridge connects the Phase 1 area, of Lekki with the Ikoyi axis of Lagos.
The Bridge spans a length of 1.36 km.
The Lekki-Ikoyi Link Bridge is a cable-stayed bridge. It is the first of its kind cable-stayed pylon bridge in Nigeria. A cable-stayed bridge is a bridge in which the weight of the deck is supported by a number of cables. Also, the cables run directly to one or more towers.
The Bridge has a Height pylon of 50m; Span of 1357 m and 37 piers.
Lagos State Governor, Raji Fashola awarded the contract for the construction of the Bridge to Messrs Julius Berger on March 13, 2009, while work started on the site on May 11, 2009.
The then Governor of Lagos State, Babatunde Fashola commissioned the bridge on Democracy day (29th of May 2013) and the commemoration of his sixth-year administration in Lagos.
The Bridge was officially opened to the public on June 1, 2013.
See more about the Lekki-Ikoyi Bridge HERE
About Julius Berger
Julius Berger is a Nigerian construction company. They specialize in executing complex works that require the highest levels of technical expertise.
Their core competencies cover all project phases, including planning, design, engineering, construction, maintenance and operation, for building, infrastructure and industry projects.
Some of the massive project done by them are; Second Mainland Bridge in Lagos, Niger bridge repair, Itoikin Epe road construction, construction of a Volkswagen assembly plant, Falom bridge, Lagos-Ibadan expressway, Lagos ring road, Jebba Road Bridge, Lagos Badagry Expressway, Tin Can Port and many among others.
Hence, autojosh brings you the throwback picture of the construction work of The massive Lekki-Ikoyi Bridge when it was being constructed in 2013.
Check them out below