See The Terrifying Moment Thieves Use Construction Digger To Steal ATM From A Building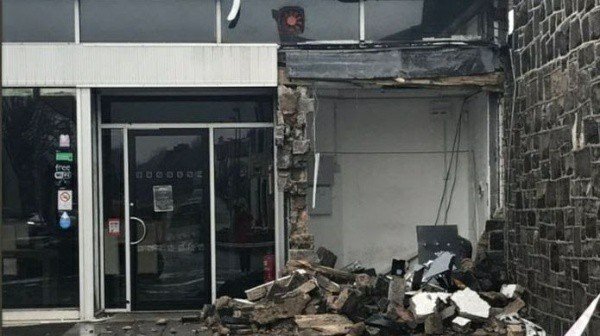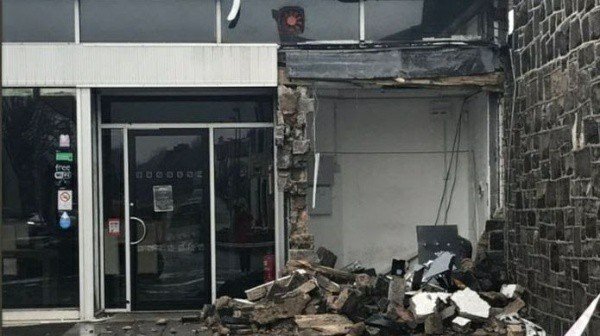 This is the moment masked Thieves use a stolen construction claw to rip Automated Teller Machine or ATM out of a building in Northern Ireland.
After successfully tearing the machine away from the wall, the thieves lifted the cash machine into a waiting car that had part of its cut off, before zooming away with the stolen multi-million Naira cash.
The whole robbery operation was captured by CCTV cameras and it lasted for 4 and a half minutes. According to the Irish police department, this incident was the ninth cash machine theft across Northern Ireland and the Republic of Ireland since the start of this year.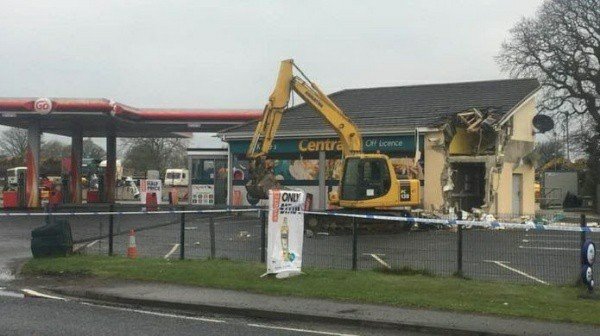 The Shop owner said:
"There are going to be less and less ATMs about now because of these attacks. There is one basically happening every week now."
"I probably won't get another cash machine in again, and that will be the local community losing out."
The Police said:
"I want to appeal to anyone who was in the area around the time the incident and saw what happened, including anyone who saw a silver-coloured people-carrier type vehicle to call us,"
The stolen digger, also called mechanical shovels or 360-degree excavators, was stolen from a construction site around the robbery scene.
It is commonly used by construction companies like Julius Berger Nigeria for river dredging, digging holes, and demolition, when hydraulic claw is attached to it.
A similar robbery incident happened in june 2019 when a group of armed men dressed in police uniforms stole a haul of gold and other precious metals worth at least $40m (or about ₦14.4 billion) from Brazil Guarulhos International Airport cargo terminal.
According to Brazil's Federal Highway Police, the thieves, which came with Toyota Pajero SUV and pickup truck that resembled those driven by Brazilian federal police, left with about 750 kg (1,650 lbs) of gold and other precious metals due for shipment to Zurich and New York.