Man Dies In Hit And Run Accident In Awka (PHOTOS)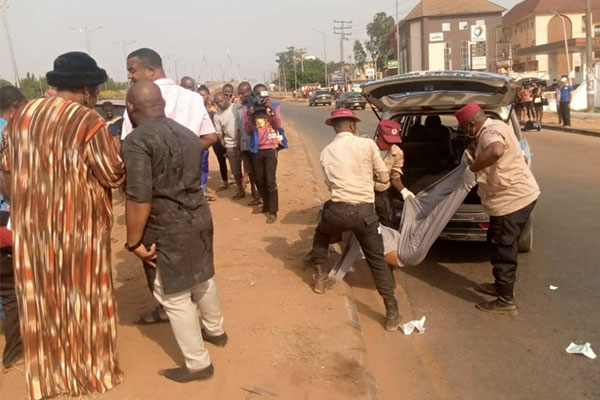 Man trying to cross the road at the UBA end of the Aroma junction flyover in Awka dies in a hit and run accident.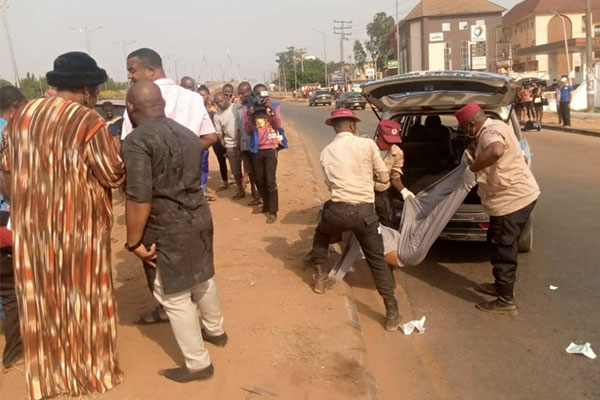 A hit and run vehicle has crushed a man to death at the UBA end of the Aroma junction flyover, Awka. According to reports, the victim was trying to cross the expressway when the careless driver hit him.
FRSC officials arrived at the scene shortly the accident and took the victim to Chukwuemeka Odumegwu Ojukwu University Teaching Hospital, Amaku, Awka, for medical examination. This is where he was confirmed dead by a Medical Doctor on duty, and his body deposited at the facility's mortuary.
Consequent upon this, Anambra State Sector Commander of the FRSC, Mr. Andrew Kumapayi, warned drivers to avoid speeding, especially in built-up areas. He however beseeched them to use maximum speed limit of fifty kilometer per hour.
Kumapayi advised pedestrians to use safest means of crossing the road if need arises. Andrew also charged them to be careful while doing same.
Undisclosed amount of money, rosary, mobile phones, phone charger and assorted recharge cards were found on the victim, named Robert Ofoegbu.
Robert Ofoegbu, reportedly hails from Azigbo, in Nnewi South Local Government Area of Anambra State.
A man, Mr. Chukwudi Obiegbunam, who identified himself as the President-General of the community, confirmed the incident. He attributed the accident to over speeding and careless crossing on the highway. Other eyewitnesses, Mr. Uchenna Chukwubuikem and Princss Salome Egede attested to this narration.
Chukwudi however, called for construction of pedestrian crossing at the spot and other strategic areas to avert similar incident.