Man Utd Car Park Now 'Resembles An Army Base' As Stars Rolls Into Training In Mercedes G-Wagon SUVs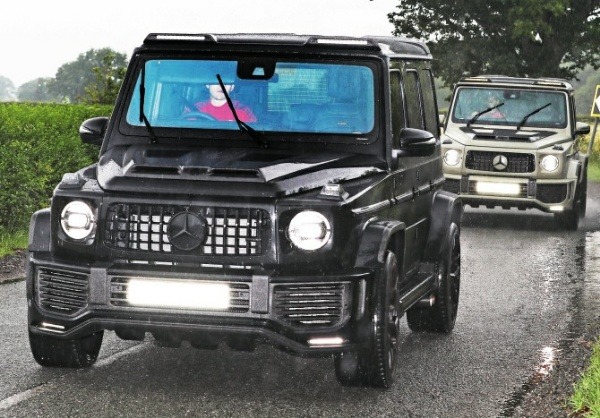 Man Utd Car Park now 'resembles an army base' as stars keeps rolling into the training ground in their indestructible Mercedes G-Wagon SUVs.
In addition to paying over $100k, some players have splashed thousands on customisation to make their SUV stand out from the crowd.
Manchester United players are choosing cars that combines luxury and ruggedness with a host of players buying indestructible Mercedes-Benz G-Wagons.
Man Utd players love for the Mercedes G-Wagon means the car park at their training base in Carrington has been left looking "like an Army base".
Players that have been spotted rolling the boxy-shaped German machine into the training ground includes Dan James and Marcus Rashford.
Phil Jones, Aaron Wan-Bissaka and Luke Shaw have also splashed millions of Naira to acquire the military-looking vehicle.
The Mercedes G-Wagon, also known as the G-Class, is fast becoming a favourite for premier league players.
Other premier league players that boasts the SUV includes Manchester City trio Sergio Aguero, Kevin De Bruyne and Raheem Sterling. Liverpool's defensive rock Virgil Van Dijk and Fabinho are also proud owner of G-Class.
In addition to paying over $100,000 to acquire the car, some players have also splashed thousands on customisations to make their SUV stand out from the crowd.
But the luxury German made off-roader  is still behind the British Bentley Continental and the Range Rover SUV.