Mercedes-Benz Launches 2024 eSprinter Van With Almost 250 Miles Of Range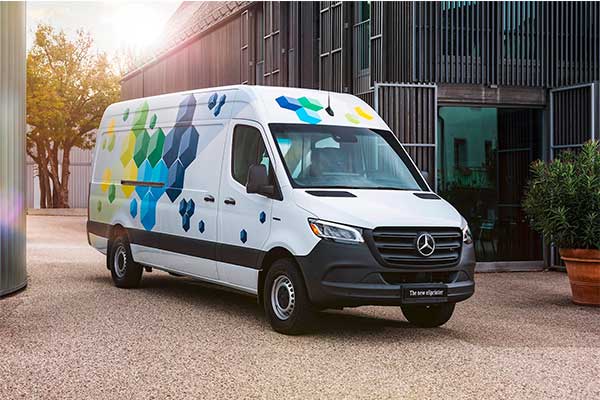 Mercedes has unveiled its second-generation eSprinter panel van and will it will be produced locally in Charleston, South Carolina, to get around Chicken Tax, with German production to follow for other markets.
The eSprinter features a 113-kWh battery, yielding a range of 248.5 miles on the WLTP's combined cycle and as much as 311 miles on the WLTP's city cycle. Full-size vans are not subject to EPA testing, but US mileage estimates will vary substantially as the WLTP tests are notoriously generous in their estimates.
The motor is available in two states of tune rated at 134 and 201 horsepower, respectively, and both variants develop 295 pound-feet of torque. The drivetrain is compatible with 115-kilowatt fast charging, and going from 10% to 80% takes about 42 minutes. Buyers in Europe will have access to two smaller battery packs with a capacity of 56 and 81 kilowatt-hours, respectively, but these will not be offered in the United States,
If you're thinking "the new eSprinter looks just like the old one," you're right. Mercedes hasn't made any significant changes to the van's design, and it hasn't done much to differentiate the electric model from its diesel-burning counterpart. It was learned that this was intentional.
Although the interior also looks quite familiar, it does host the MBUX infotainment system for the first time on a commercial vehicle. It should prove to be a handy tool when the navigation is turned on since it'll be able to estimate range in real time depending on traffic and topography. In addition, it can also allow the driver to reach their destination with a desired battery level.
With a max payload of 2624 pounds and as much as 488 cubic feet of cargo volume, the eSprinter should be ready for the same sort of grunt work that an internal-combustion model could handle, minus the easy fill-ups and ability to cover mega miles nonstop.