BMW Gives X5 And X6 A Major Refresh For 2024 With Lots Of Engine And Interior Improvements
The mid-size X5 SUV was the best-selling BMW in 2022, and it now receives a host of updates for the 2024 model year, with redesigned front and rear ends, a more modern interior with a curved digital display, and a more powerful inline-six engine. The sloped-roof X6—a niche, fashion-conscious alternative to the X5—benefits from the same upgrades as its more sensible sibling, including the 48-volt hybrid system that improves the efficiency of both the inline-six and V8 motors.
New headlights with a slimmer design feature on both SUVs, while the X5 also gets new taillights with graphics that form an X shape. The grille for each model has also been revised and now has a more sculpted look, and the X5 offers a lighting option for the grille for the first time. It's a good thing BMW didn't go for the X7's huge grille.
The changes are fairly low-key and might go unnoticed, but the interior upgrades are much harder to miss. Every X5 and X6 gains BMW's latest curved dashboard screen that combines a 12.3-inch digital gauge cluster with a 14.9-inch infotainment screen mounted behind a single pane of glass that gives the appearance of one huge digital display. BMW expects customers to use touch and voice activation for many of the system's controls, but it's great to see that the now 22-year-old iDrive rotary controller lives to fight another day.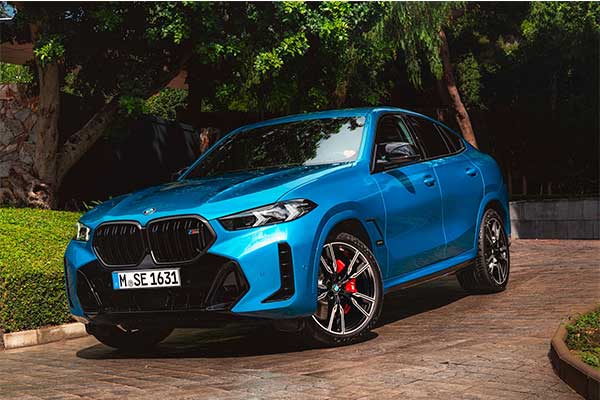 The revised SUVs also offer more for drivers who don't care so much about driving. Highway Assistant is a Level 2+ autonomous package that lets you take your hands off the wheel at up to 85 mph on certain pre-mapped stretches of major road networks. It's part of the optional Driving Assistance Professional Package
On the engine department, X5 sDrive40i, xDrive40i, and X6 xDrive40i get a new generation of BMW's 3.0-liter turbocharged inline-six. The powerplant gains 48-volt mild-hybrid assistance with an electric motor producing 12 hp and 147 Ib-ft. The system's total output is now 375 hp and 383 lb-ft. In comparison, the previous application of the six-cylinder in these models made 335 hp and 332 lb-ft. The new xDrive50e (previously the 45e) makes 483 hp (up from 389 hp in the old 45e) and 516 lb-ft of torque with a preliminary electric-only range estimate of 40 miles (up from 30) thanks to a 25 percent larger battery. BMW says it's good for a 0-60 sprint in 4.6 seconds;
BMW estimates the 2024 X5 and X6 xDrive40i can accelerate to 60 mph in 5.2 seconds. The figure was 5.3 seconds before the refresh. An eight-speed Steptronic Sport automatic transmission is standard, and it has an integrated electric motor.