Mercedes G-Wagon Ripoff Gets China's 70th Birthday Anniversary Special Edition (PHOTOS)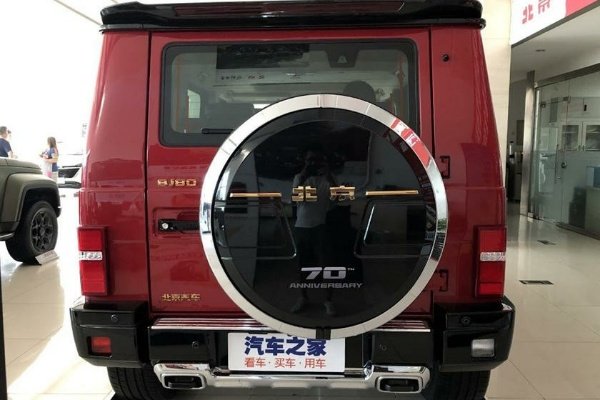 Mercedes G-Wagon Ripoff  gets anniversary edition… 
Chinese automaker Beijing Auto Industry Corporation (BAIC) has unveiled a special edition of its fast selling Mercedes G-Wagon ripoff to celebrate the 70th anniversary of the foundation of the People's Republic on Oct 1, 1949.
The special edition Sports Utility Vehicle, named the BJ80 70th Anniversary Edition, is finished in bright red color, which, according to BAIC, symbolizes the national flag.
It also sits on 20-inch wheels and comes with several anniversary badges and logos both on the inside and outside.
Powering this off-roader is a Saab 2.3-liter turbo engine with 250 horsepower and 350 torque. This turbo-gasoline engine is mated to a six-speed auto.
The reasons why Mercedes will never take legal action against BAIC for copying the iconic G-Class is simply because the German automaker own a 12% stake in the Chinese auto manufacturer and shares a joint venture called Beijing-Benz.
In addition to taking some inspirations like its boxy shape from the Mercedes G-Wagon, some aspect of the BJ80 was also based on Beijing Qishi S12, popularly known as Beijing-made Jeep Cherokee.
Nigerian-made Innoson IVM G80 SUV is a variant of the mid-size four-wheel drive BJ80 luxury SUV. Other variants includes the diesel powered BJ80D and the BJ80J military version. There is also a Czech-made version, the SVOS 80, as well as an Armored vehicle version, with steel and kevlar plating.
Just 700 copies of the anniversary version will be made. The price has not yet been revealed, but the standard BJ80 starts from 288,000 yuan to 298,000 Yuan, which is equivalent to about ₦14,900,000 to ₦15,400,000, excluding cost of shipping and clearing in Nigeria. The Innoson IVM G80 luxury SUV starts at ₦27,825,000.