Mile 2-Apapa Expressway: A National Disgrace (PHOTO)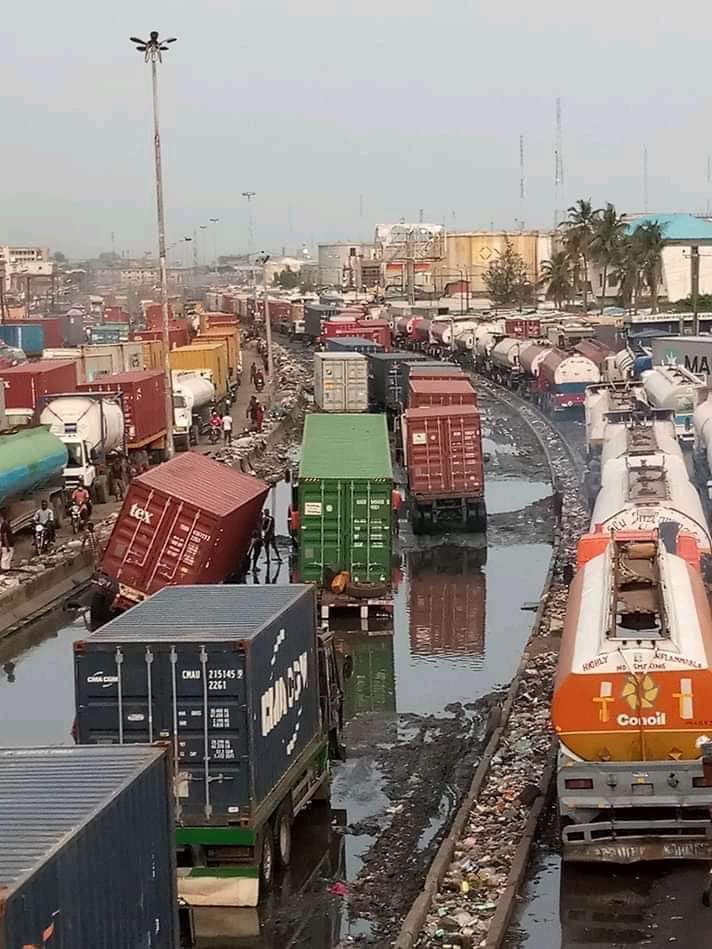 The Oshodi-Apapa expressway is one of Nigeria's most economically crucial roads.
It leads to the Apapa and Tin Can ports. These ports are where Nigeria generates a large chunk of its national income.
Tragically, this important expressway and other major roads around it have become a source of pain, sorrow, agony and national embarrassment.
This Oshodi-Apapa expressway – especially the Mile 2-Tin Can axis of the expressway –  has been taken over by hundreds of thousands of fuel tankers, container-laden articulated vehicles and sundry trucks heading for the Tin Can Island Port or the fuel tank farm at the Trinity Bus Stop area.
At the Mile 2 portion of the expressway towards Tin Can Island Port, there is literally no road. What used to be the road is now a dilapidated, potholes and craters-infested stretch.
Simply, the stretch of road from Mile 2 to Tin Can is a picture of monumental filth.
In 2015, when Babatunde Raji Fashola was appointed as the Federal Minister of Works, Housing and Power, Lagosians breathed a sigh of relief.
The expectation was so high that – as a Lagos boy – the road would be of utmost priority to the Ministry he heads.
Sadly, it has not shown to be so.