Mini Showcases Aceman Crossover EV Concept With Classic Elements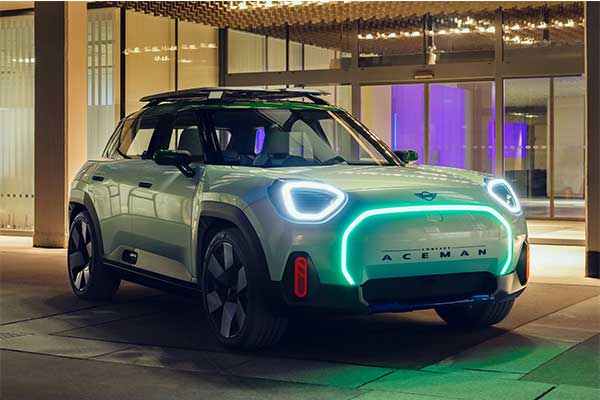 Mini has revealed the Aceman concept, an electric crossover that could eventually join the brand's lineup situated between the Cooper and the Countryman. The Concept blends traditional Mini traits with a new green era. "This concept car reflects how MINI is reinventing itself for its all-electric future and what the brand stands for: an electrified go-kart feel, an immersive digital experience and a strong focus on a minimal environmental footprint," Stefanie Wurst, Head of the MINI Brand said in a press release.
The exterior design is an evolution of the classic Mini philosophy. The front end creates a pseudo-grille with an open octagonal contour and green LED light strip, within which a Union Jack LED motif is portrayed through the body panel where the grille would be when the car is unlocked.
Matrix LED headlights ditch the traditional round style and bring the Mini brand into a new era. At the back, the lights mirror the British Union Jack, as does the roof rack up top. 20-inch wheels that look like spinning blades cap off the concept's distinctive look.
The interior is even more interesting than the exterior. Mini says they've applied the idea of "Charismatic Simplicity" to the car, and this is where it really shows. It has just a simple dash pad ahead of the funky green velour steering wheel, and mounted to it is a circular OLED touchscreen infotainment display. It continues the design idea laid out by the original Mini revival of the early 2000s but is very decluttered. Below the screen is an oval-shaped control strip with a selection of physical toggle switches for stereo and climate controls, a further nod to the toggles introduced by that older modern Mini. The infotainment system also is apparently built on Android. All of this seems likely for production. Less likely are the wild, '90s-feeling interior colours and upholstery. The same goes for the extended display system where graphics ranging from floating clouds to navigation maps can be projected onto the dashboard panels.
The Aceman concept will make its public debut at the Gamescom video game convention in Cologne, Germany, which will start on August 23.