Dodge Goes Electric With Charger Daytona SRT Concept Which Is Powerful And V8 Loud
We can all say it's a Dodge week with numerous releases from the Challenger Convertible to the Hornet Crossover and now we have a taste of a performance EV in the new Charger Daytona SRT concept.
Unveiled during the third day of the Dodge Speed Week event in Pontiac, Michigan, the Dodge Charger Daytona SRT Concept is unlike any other Dodge before it and rocks a new powertrain dubbed Banshee. Dodge says this powertrain acts as the new pinnacle of performance in the Brotherhood of Muscle, eclipsing the Hemi, Hellcat, and Redeye engines.
Dodge says the concept is inspired by the Charger Daytona, which, in 1970, was the first Nascar competitor to break 200mph. The concept also incorporates several new technologies not seen in conventional EVs. It features a multi-speed transmission with electro-mechanical shifting, as well as a 'Powershot' button, which adds a quick burst of acceleration.
The American automaker is still quiet about powertrain details, but it did share some interesting bits. The powertrain uses an 800-volt electrical system called "Banshee," which inspired the "screaming banshee" badges on the fenders. That should enable it to handle up to 350-kW fast charging. Dodge also said that the Charger Daytona is all-wheel-drive and faster than a current Hellcat. It gets a PowerShot overboost button like the newly revealed Hornet, which can be used any time, and the car has drive modes named Slam, Drift, Drag and Donut.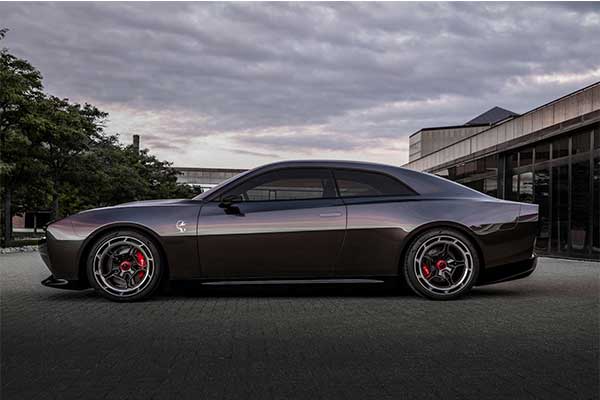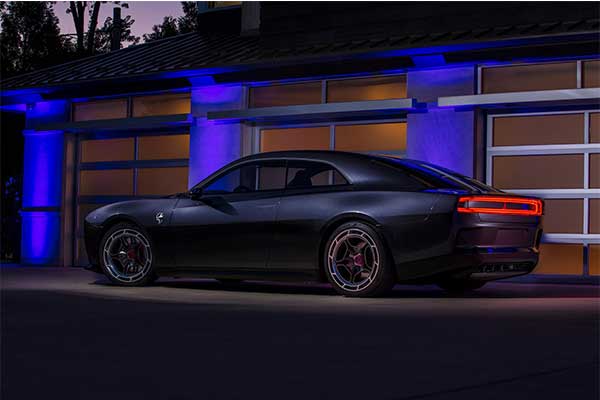 Then there is the sound. In the lead-up to the launch of the car, Stellantis promised that it would produce a "shocking" sound. It has now been confirmed that it developed a patent-pending Fratzonic Chambered Exhaust system for the Charger Daytona SRT Hellcat that produces a 126 dB roar, equal to that of the SRT Hellcat. This system consists of an amplifier and tuning chamber located at the rear of the vehicle and delivers a visceral "Dark Matter" sound profile that works alongside the eRupt transmission.
Things aren't nearly as strange inside, where you'll find a decidedly sporty interior that offers a rather conventional layout. A 12.3-inch centre screen is angled towards the driver, with a 16-inch digital instrument cluster and an 8-inch heads-up display delivering vital vehicle information. The wide classic Charger grille is also a theme for interior trim, seen in the illuminated texture wrapping through the cockpit. A large centre console is home to a shift stalk reminiscent of the pistol-grip shifters of old.
A production version of the Charger Daytona SRT Concept is due in 2024, possibly as a replacement for the current Charger and Challenger, which are due to end production after 2023.