Mitsubishi Revives The Colt Hatchback Which Is A Rebadged Renault Clio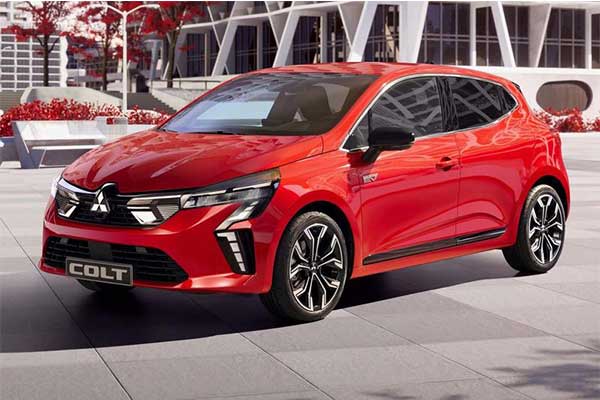 Remember the Mitsubishi Colt? The small hatchback back in the day that was discontinued after so many years? Well, good news, a 2024 model has been released, and although it's not an entirely new model (a rebadged Renault Clio) it looks and feels a little different from its French sibling.
There are some minor changes to the grille, bumpers, and lights, but it's essentially the same car. Not only that, but the interior is virtually identical, save for the different logo on the steering wheel and the removal of the French flag on the passenger side of the dashboard.
At the rear, the adjustments have been more limited. As with the new ASX, the brand name is written out on the tailgate and the brand logo is missing here. The latter means that the reversing camera is rather prominent in the 'pimple' on the tailgate that is neatly concealed by the Renault logo on the Clio.
On the dash, a seven-inch touchscreen or a 9.3-inch display is available for infotainment purposes. There are two USB ports, a wireless charging pad, and a Bose sound system with nine speakers and a subwoofer. The driver gets a seven-inch instrument cluster or a bigger 10-inch screen at an additional cost. In addition, the Colt also comes with niceties such as a heated steering wheel, bi-LED headlights, 360-degree cameras, heated mirrors, and basically all the safety kit you can order for the Clio.
Under the hood, there's a naturally aspirated 1.0-liter, three-cylinder gasoline engine making 66 horsepower and 70 pound-feet of torque. Step up to the turbocharged 1.0-liter mill and output grows to 90 hp and 118 lb-ft of torque. Both petrol engines are mated to a five-speed manual transmission. At the top of the range is the naturally aspirated 1.6-liter hybrid with a combined output of 141 hp. The ICE is good for 109 lb-ft while the electric motor delivers 151 lb-ft. An automatic transmission is also available.