The All-New Land Rover Defender Already Spotted In Lagos (PHOTOS)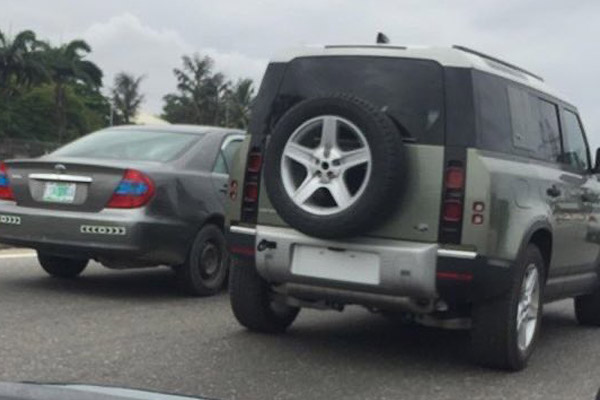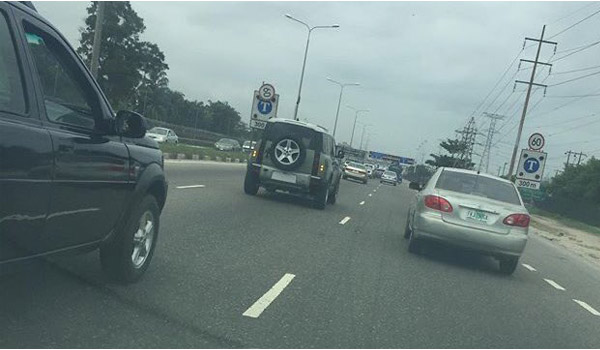 The latest version of the Land Rover Defender was spotted in Lagos some days back in all its glory. The Defender which was the company's most anticipated vehicle has been making serious waves in the automobile sector. This is so because it is all-new from the ground up and looks nothing like the Defender we all know. This latest model is modern with all the new technology in place but without compromising its offroad ability.
This might be the 1st one ever seen in Nigeria and from the photos, it's not registered and nobody knows if its a brand new model or "toks". The model seen here is a 5-door variant which is the Defender 110 although it is also available in a 3-door variant. A 2.0 inline-4 cylinder turbo engine (petrol) with 269hp and 295 ft-lb of torque powers it. It is mated with an 8-speed ZF automatic transmission combined with a 2-speed transfer case gearbox (offroad). Other engine variants are also available but they may not suit Nigeria because of its plug-in hybrid system.
It is amazing how Nigerians still get their hands on the latest models of cars and some of us have the opportunity to see them. The latest Defender will be available at Coscharis Motors, Nigeria's sole distributor of Land Rover vehicles.
What's your say on this latest Defender spotted in Lagos? Tell us in the comment section below