Nissan Launches 4 Electric Concept Vehicles In Their New EV Project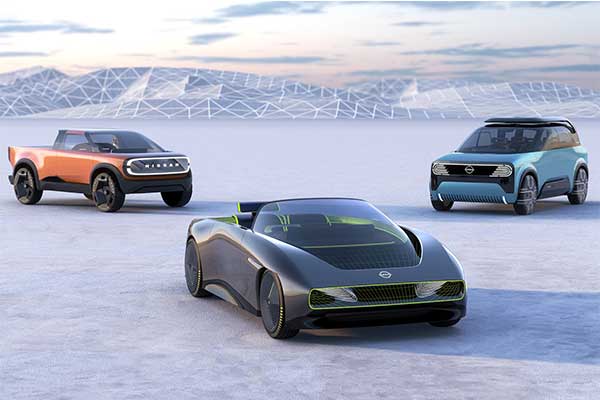 Nissan wants to speed up its brand electrification process by 2030 and will launch 23 new models including 15 EVs to that effect.  A glimpse of that project has been unveiled in the shape of 4 exciting concept EVs. The four concepts are called the Chill-Out, Max-Out, Hang-Out, and Surf-Out. Each one caters to a unique segment and buyer profile.
Production details weren't mentioned but the Chill-Out, a coupe-like crossover, is thought to be the electric crossover Nissan confirmed in July for its plant in Sunderland, U.K.
The Hang-Out is a more rugged crossover aimed at young families. The Surf-Out is a lifestyle-oriented pickup truck with a single-cab body and removable canopy, and the Max-Out is a sleek, low-slung roadster with seating for two.
Nissan's latest concepts were clearly designed by a team uninhibited by current automotive norms. Spacious cabins, dramatic styling, and flexible seating layouts characterize each one. It's obvious that they were designed to accommodate autonomous driving technologies too. It'll be fascinating to see the production versions of these concepts look like in the years ahead.
Over the next five years, Nissan will invest 2 trillion yen to accelerate the electrification of its lineup and rate of technological innovation. No less than 20 new EV and e-POWER equipped models will be introduced in the next five years and by 2026, Nissan expects 75 per cent of its sales in Europe to be for electrified models. In Japan, it is aiming for 55 per cent of sales and in China, more than 40 per cent of sales to be electrified. As for the U.S., Nissan is targeting 40 per cent EV sales by 2030.