Peugeot Showcases The Interior Of Its Upcoming 3008 Electric SUV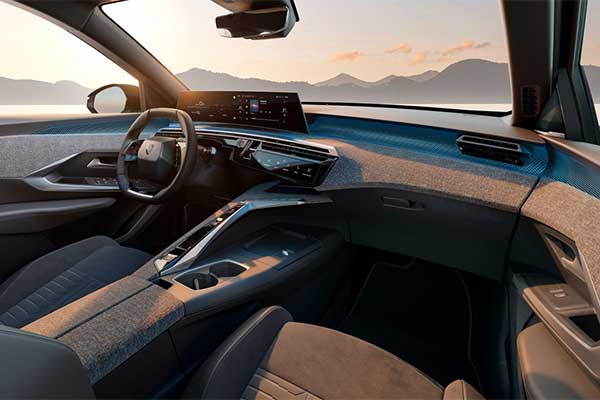 Peugeot is working on the next 3008, which will be "an all-new electric fastback SUV". It will be revealed in September, and today the company has started the teaser campaign for the upcoming model.
The first teaser images we get are all of the interior, which Peugeot calls "panoramic i-Cockpit", a design concept that demonstrates "the metamorphosis of the new 3008", which will take "design creativity, driving pleasure, and electric performance to a whole new level", whatever that means.
So, on the inside there's an "impressive" 21-inch high-definition curved "panoramic" screen "floating above the dashboard", a new compact steering wheel, and "i-Toggles". The single screen extends from the left-hand end of the dashboard all the way to the center console, and it's attached by a rear foot that's invisible to the passengers – hence the floating look.
This effect is accentuated by special LED mood lighting beneath the screen. Speaking of which, the ambient lighting extends across the entire width of the dashboard and door panels, and it's reflected on an "elegant genuine aluminum trim".
The screen is slightly curved towards the driver for optimum ergonomics but remains perfectly accessible to the passenger. On the left part of the display, you get the instrument cluster, while the right side is a touchscreen accessible to both driver and passenger, used to control heating/air conditioning, navigation media systems, and so on.
The controls on the steering wheel are "tactile clicking". They detect your fingers but are only activated when pressed, to avoid accidental touches. There are also two new, "slim and elegant" controls behind the wheel, Peugeot says.