Porsche Debuts The 2022 Cayman GT4RS Which Is The Fastest And Most Extreme Model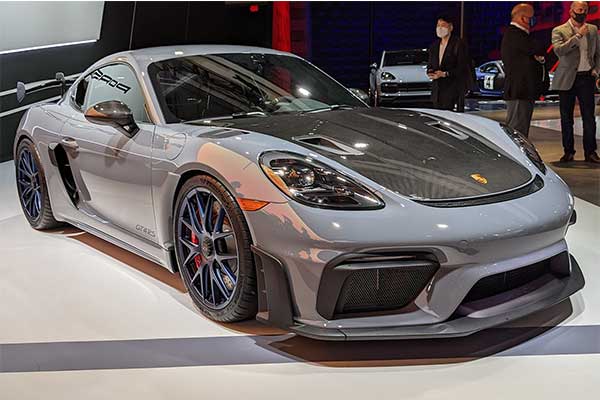 Porsche has done it again with this beast of a vehicle which is superfast as well as extreme, enter the 2022 Cayman GT4RS launched at the just concluded Los Angeles Motor Show.
The 718 Cayman GT4 RS has already proven its capabilities on the Nürburgring-Nordschleife, where it clocked a 7:04.511 lap time (7:09.300 for the full 20.832 km), making it 23.6 seconds faster than the GT4. But how did Porsche engineers manage to extract that level of performance? Let's take a dive into the official specs.
Under the hood is a 4.0-litre flat-six is pulled straight from the Porsche 911 GT3. Though in the mid-engine, the Cayman makes 493 horsepower and 331 ib-ft of torque (a bit less than the 911 GT3). The engine still hits all the high notes with a 9,000-rpm naturally aspirated redline.
The 718 Cayman GT4 RS will come only with a 7-speed dual-clutch transmission with shorter gearing than the version in the 718 Cayman GT4. That helps acceleration: the Cayman GT4 RS can hit 60 mph in just 3.2 seconds, a half a second quicker than the automatic-equipped Cayman GT4 and its 414 hp. The GT4 RS tops out at 196 mph, which is 9 mph higher than the GT4.
The GT4 RS weighs 3,227 pounds, about 50 pounds less than the GT4. To get that weight loss Porsche used carbon fibre reinforced plastic for the front fenders and hood. The rear window has lightweight glass, the doors have lightweight panels, and the door latches are fabric loops as opposed to metal levers. There's also a massive rear wing with a swan-neck design inspired by the 911 RSR and the road-going 911 GT3. It also gets a couple of RS-specific air intakes replacing the rear quarter windows, which in combination with the revised side intakes improve cooling for the more powerful engine.