EndSARS: Return To Duty, FRSC Boss Orders Personnel
Officials of the Federal Road Safety Corps, FRSC, have been ordered to return to duty immediately across the country.
The Corps Marshal, Federal Road Safety Corps, FRSC, Dr Boboye Oyeyemi gave the order.
Recall that the Corps had earlier suspended all enforcement activities. This was as a result of the unrest that trailed the #EndSARS protests in the country.
Some offices of the Corps were also torched by rampaging hoodlums. The hoodlums had hijacked the protests against police brutality to terrorise Nigerians including road users.
On Friday, Boboye Oyeyemi ordered all the officers of the Corps to return to their duty posts. The order was contained in a statement. The statement was titled, 'Go Back To The Roads.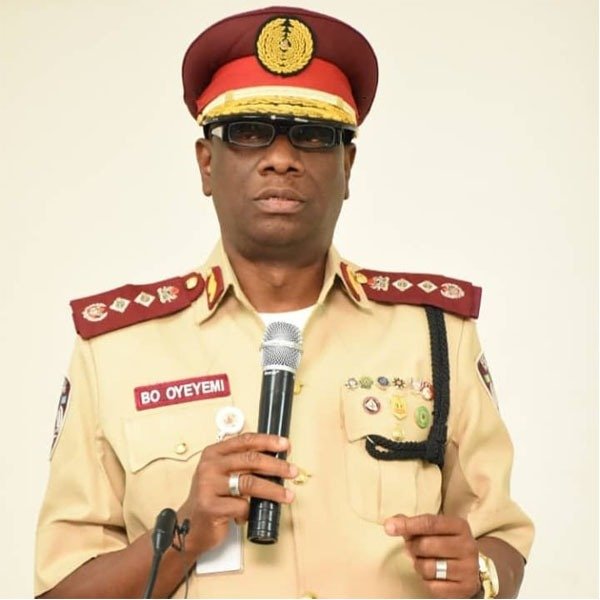 According to him, irrespective of the incessant attacks that led to the burning, looting, arson and damaging of FRSC properties in various locations occasioned by the #EndSars protest, the Corps is still deeply committed to the full realisation of its corporate mandate; as such, will not be dissuaded from carrying out its humanitarian work of keeping the roads safe, even amidst the risks on lives and properties of personnel. Return to duty
While boosting the morale of the entire workforce, Oyeyemi assured the personnel that everything humanly possible must be done to safeguard the lives and properties and those of family members of Staff as well as all FRSC facilities through close liaison with security agencies.
Federal Road Safety Corps is the Government Agency with statutory responsibilities for road safety administration in Nigeria. Founded in 1988, the Federal Road Safety Corps (FRSC) operates in all Nigerian states as well as the Federal Capital Territory and is the leading agency in Nigeria on road safety administration and management.