See How These Street Cleaners Are Working Dangerously (PHOTOS)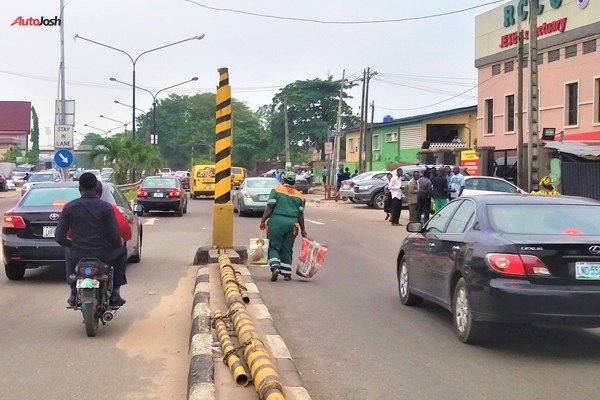 These are highway managers or community sanitation workers (CSW) in Lagos.
They are employed by the Cleaner Lagos Initiative (CLI).
Not too long ago, CLI set out to recruits 27,000 sanitary workers or highway managers across the state. The recruitment was publicized via various media channels.
In the advertorials, it was stated that successful candidates would be entitled to some benefits, such as decent wages, healthcare service, protections such as insurance and pension guarantees, etc.  Our investigations revealed that these workers do not enjoy most of these benefits.
Daily, these highway managers start their sanitary duties as early as 6am.
At inception of the CLI project, these road workers were equipped with safety devices to ensure their safety while cleaning the streets.
Primarily, they were kitted in brightly coloured outfit. This is intended to make them easily visible to on-coming motorists.
They were also equipped with reflective traffic safety cones – or pylons.
Pylons are usually cone-shaped markers that are placed on roads or footpaths. They function to redirect traffic or serve as advance warnings hazards or dangers, or the prevention of traffic. In other words, they serve to protect these road cleaners from potentially dangerous traffic situations.
However, lately, it has become common sight to see these sanitary workers right in active duty in traffic without the sight of a pylon.
Indeed, the absence of pylons clearly puts their lives at huge risk.
There is absolutely no reason why these workers should work in the midst of  busy traffic without this form of protection.
The Cleaner Lagos Initiative (CLI) is a comprehensive plan to privatize all aspects of waste management in the city. It is an initiative of the Ambode-led administration.
CLI is targeted at effectively managing waste in the state. The Initiative is being supported and implemented by Visionscape in partnership with the Lagos state government.
In a move at reinforcement, the company issued a government-backed N50 billion (approximately US$ 140 million) "green infrastructure" bond in August 2017 to finance its operations.
Visionscape is part of the Visionscape group, a Dubai based multifaceted group of companies that specialises in waste management, flexible packaging, polymer compounding, polymer recycling.
The organisation has a ten-member board which includes a Nigerian, Adeniyi Makanjoula.