2018 Skoda Octavia RS 245 (Photos And Details)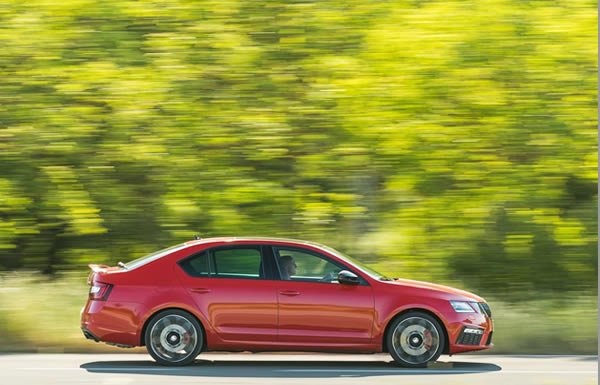 We have not been liking Skoda of late in Nigeria. Despite that, they still make some amazing cars. This one is a timeless aesthetics with sporty styling. The OCTAVIA RS 245's extreme sports look is shaped by the standard-fit 19" Xtreme wheels and a cavalcade of accessories in shiny black.
The exhaust pipe end pieces in glossy black finish have been specially tuned to produce the engine's characteristic sporty sound. The wing mirror covers in black represent another characteristic detail of the RS 245 version.
It comes with a coloured Maxi DOT onboard computer with a lap timer.. and a sporty interior which features glossy black alcantara trims distinctively enriched with ambient lighting.
The Columbus navigation system is at the top of the range. Its 9.2-inch screen provides a resolution of 1,280 × 640 pixels. There is also a 64-GB flash memory, a DVD drive and an optional LTE module, which supplies the occupants with high-speed Internet.
The ŠKODA OCTAVIA RS 245 has a 245-hp, four-cylinder, TSI petrol engine under its bonnet. From a standing start, it reaches 100 km/h in 6.6 seconds.
It also features an impressive array of assists to make mobility safer and more comfortable.. this includes Predictive Pedestrian Protection, Adaptive Cruise Control, Blind Spot Detect, Dynamic chassis control (DCC), Lane Assist, ŠKODA Connect etc.
Price in Nigeria is estimated at N16m.
See Related Post Governor Ambode's Bulletproof Official Range Rover Sentinel (Photos)