See How People Try To Pull Out A Submerged Car From Floodwater In Benin-City (VIDEO)
Many residents of Benin, Edo State have been rendered homeless following several hours of heavy downpour on Saturday. submerged car
Further reports that aside from the destruction and submerging of houses, several cars were also destroyed by the flood.
In the video below, residents of Erediauwa axis of Benin are seen trying to pullout a submerged car from a scene of flooding.
According to the narration on the video of the individual who captured the scenario, there is still another car submerged in the floodwater.
Watch the video below:
According to reports, only a few parts of the city was spared by the flood.
The areas worst hit included most parts of the GRA, 1st East Circular, Akenwan Road. Others include Sakponba Road, Erediauwa, off Sapele Road, Okhoro as well as Ugbowo areas of the city.
Flooding In Benin-City, Edo State
submerged car
Some of the victims of the flooding Benin-city painted a gloomy future. They believed that this could only be averted if they were assisted by the government to recover some of their losses.
A resident, Moses Izekor, described the situation as pathetic. He said they watched helplessly as the flood completely submerged their houses and destroyed properties.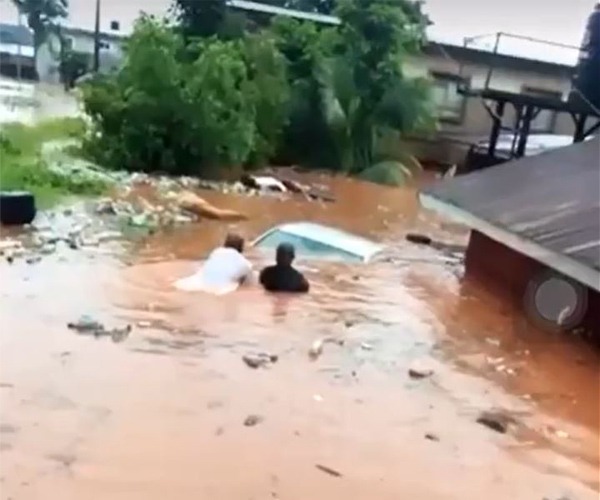 The situation was not different from Osazuwa Ighodaro, living in Erie. It was not different at off Sakponba Road where building caved in under the impact of the flood.