Hollywood Actor Sylvester Stallone Auctions His Cadillac Escalade ESV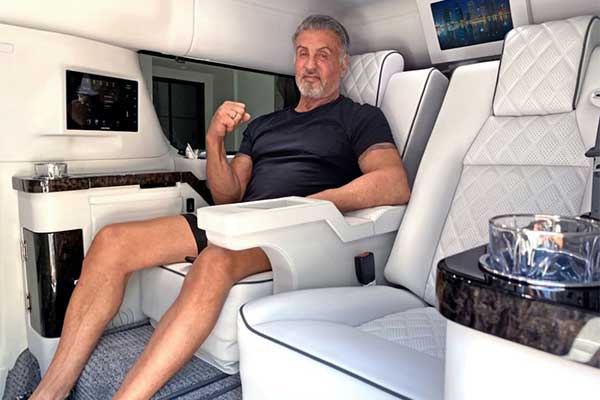 Popular Hollywood actor Sylvester Stallone has decided to sell his highly customized Cadillac Escalade after owning it for a year. Bonus points, in addition to the fact that Sly's butt sat in those seats: it's a brand new car, and it was customized with design cues from the man himself.
The SUV was customized by done by Becker Automotive Design who is famous with celebrity customization. Sly has barely used the large SUV as he has done just 1000 miles so it's almost brand new. In a typical celebrity fashion, the Escalade ESV is loaded with all the latest features. This ESV can comfortably seat five people in the back, with plenty of legroom. The seats come with built-in massagers and thermoelectric cool and heat functions, and there are large LCD screens both in the front and rear, including a giant 43-inch (109-cm) UHD LCD smart TV.
Becker Automotive also added aeroplane-style tables and storage spaces for drinks. Electric curtains will guarantee maximum privacy when you will most need it. Sylvester Stallone personally supervised the interior designs so there are Sly touches throughout it.
For the pricing, the SUV will start as from  $350,000 (approx ₦140m) but it may even cost more as Stallone purchased the SUV for $408,000 (approx ₦160m). In a statement the Actor said. "I ordered my Becker ESV for a specific purpose, however, my requirement for it has recently changed and I no longer have a need for this beautiful vehicle".