The 2022 Audi RS3 Comes With A 395HP Inline Turbo 5 Cylinder Engine And An Amazing Drift Mode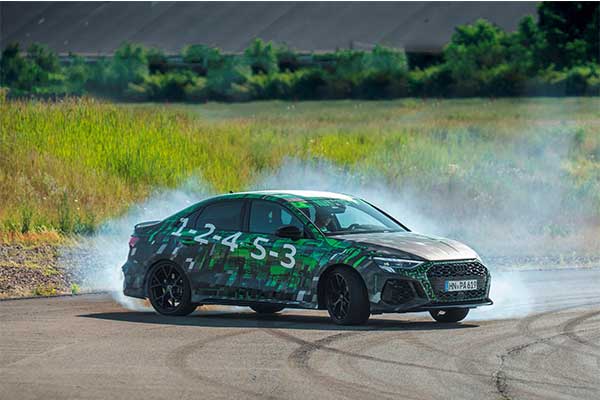 Audi Sport has released the first technical details of the new-generation 2022 RS3, the Mercedes-AMG A45's prime nemesis. As before, the performance model is available in five-door Sportback and four-door sedan body styles.
Right off the bat, Audi fans will be pleased to hear the turbocharged 2.5-litre five-cylinder lives on. It's a bit more powerful and makes a bit more torque. It goes from 394 horsepower to 401 according to a background presentation from Audi, and from 354 pound-feet of torque to 369. It is mated with a seven-speed dual-clutch transmission and a new Launch Control system that change gears in a shorter time and offer "lighting-fast starts". The RS3 shoves its way to 62 miles per hour (100 kilometres per hour) in a claimed 3.8 seconds, with a top speed of 180 mph (290 km/h).
Keeping that grunt under control is a new, RS3-specific torque-splitting rear axle. Using an advanced multi-plate clutch on each rear axle shaft, the RS3 can actively send power to the right or left, overdriving the outside wheel in corners to reduce understeer and improve manoeuvrability. Unsurprisingly, the 2022 RS3 will ride on stiffer shocks and springs, with the body sitting 10 mm lower than the S3, and 25 mm than the A3. The front McPherson suspension features RS3-specific pivot bearings, stiffer lower wishbones, subframes, and stabilizers.
The torque splitter will be affected by the RS3 drive modes which the RS3 has 7 of them with 5 characteristic formula which include Comfort/Efficiency, Auto, Dynamic, RS Performance, and RS Torque Rear. That last one is obviously for drifting "on a closed course," but as you move from Comfort/Efficiency towards the RS modes, that RS Torque Splitter gets more active. The system also reacts to the weather. The official reveal date for the 2022 Audi RS3 is July 19th.