This Custom Toyota Land Cruiser Is The Ultimate Jungle King (Photos)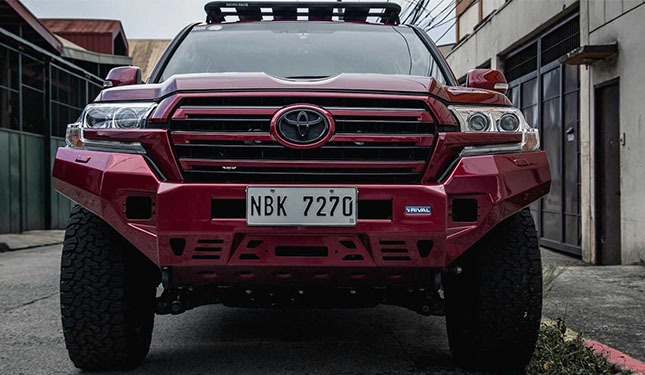 We are all accustomed to the fact that the Toyota Land Cruiser is a proven off-roader but what about this custom version that is tagged the King of the Jungle? Let's find out what this means and what makes this special model King. To spice things up, it's given the nickname Manila Proof Land Cruiser. The reason for this name is that Metro- Manilla in The Philippines is a harsh place. It has the worse terrains and this vehicle will rule that area
For starters, this vehicle began as a normal Land Cruiser before it was transformed into the beast it is now. Kudos should go to Atoy Customs, a Philipino based tuner company that specialises in modifying SUVs and Vans. Now their latest work is the ultimate machine to take on the urban jungle and withstand all conditions.
Upfront, Atoy Customs geared this LC200 with a Rival Russia aluminium lightweight front bar in conjunction with a 6mm under-vehicle protection plates. On the sides, a Line-X-coated Opposite Lockstep board serves as another form of protection. The rear end gets a Kaymar rear steel bar. It is also supplemented by a full Icon Vehicle Dynamics Stage 6 Suspension System to withstand the aforementioned crazy potholes. For the tires, it is fitted with Method 310 Con-6 18×9 wrapped with BF Goodrich KO2 All-Terrain.
These are the many upgrades and modifications fitted to the Land Cruiser. The owner can rest assured that he will get peace of mind riding this vehicle. The engines and transmissions remain untouched so expect the handling and drivetrain of a normal Land Cruiser that is reinforced.