This Is Lagos; A City Swimming In Filth (See PHOTO)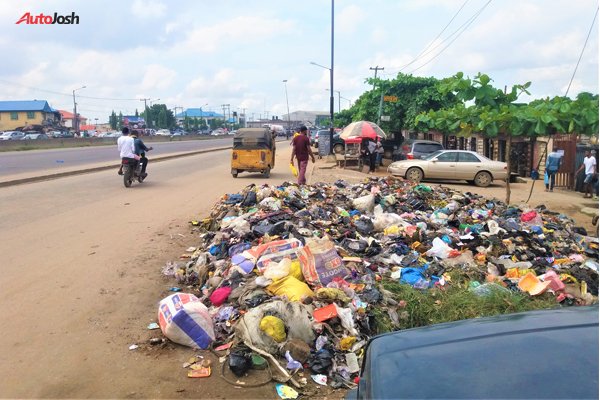 Governor Akinwunmi Ambode is not coming back for a second term. This is by no means news any more.
The reason for his failure to secure a return ticket have been reduced to several theories.
Oddly, of late, there seem to be a consensus that Ambode's performance is average – or even poor. This is rather strange, considering that it contradicts his consistent rating as the Best-performing Governor in the Nigeria.
That notwithstanding, many still rate him as the best-performing governor in the country. However, the Lagos state politicians that staged a gang-up against his return bid hold very resolute contrary opinions.
Indeed, Governor Ambode can be rated as having performed relatively well – at least by our very poor standard of judging our leaders in Nigeria.
However, we would be lying if we failed to admit that there are areas he performed so poorly. For instance, in the environmental sanitation department.
It goes without saying; Lagos state has never had it so bad in a very long time in the cleanliness department.
It appeared that Ambode lacked even the vaguest idea of the incredible amount of dirt that Lagos state generates.
Perhaps, this informed his hasty and sloppy adoption of the Visionscape and the Cleaner Lagos Initiative,  and the thoughtless disengagement of the PSP component. All these seem to expose his naivety in that area.
Months into the new Visionscape cleaning regime – and even with the partial recall of the PSP Operators in the environmental sanitation business – the state is still drowning in dirt.
Indeed, Ambode might have perform excellently in some areas – however,  he failed woefully in the environmental sanitation of Lagos state.
Ambode should have conformed to the popular American saying that goes thus:
"If it aren't broke, don't fix it".